#BuyPens Campaign Raises $145,000 for Syrian Refugees in Just Three Days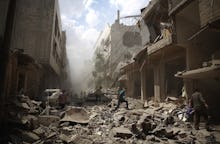 It started with just one tweet. Now, a viral campaign to help a family of Syrian refugees has raised over $145,000 in mere days.
CNN reports #BuyPens began after Norwegian activist Gissur Simonarson posted a photo of a destitute Syrian man selling pens in the streets of Beirut, Lebanon, while carrying his 4-year-old daughter in his arms.
Simonarson told CNN he was quickly inundated with requests to help the man, leading him to spend two days looking for the refugees. He was able to identify the man pictured as Abdul Halim, who fled from Yarmouk, Syria, a destitute neighborhood and refugee camp outside Damascus. Yarmouk has landed in the crosshairs of Syrian government forces and Islamic State militants fighting the country's brutal four-year civil war, which has displaced 20% of Syria's pre-war population.
Simonarson also started an Indiegogo campaign to help Halim's family start a new life. As of Aug. 30, it had raised over $145,000 from nearly 5,500 people.
According to Simonarson, Halim was very relieved and grateful to hear of the campaign.
One of the activists involved in the search for Abdul was even able to grab a selfie with Abdul's daughter, Reem.
Halim told NBC News, "I don't want my daughter to stay on the streets, and I want to teach my son. That is all that matters to me, us. This campaign will change my life positively. I want to help my siblings and help the Syrians here in Lebanon. I want to help my parents, my siblings that live in Syria."
"Syrians here are suffering. What can I say, thank God I am living in a room but there are Syrians living on the street," he added. "There are 1,500 kids on the streets. I hope that what happened to me with this campaign can happen to every kid on the street."