A First Nations Woman Just Won the Mrs. Universe Pageant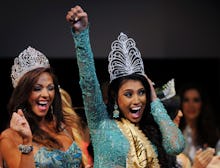 Enoch Cree Nation member Ashley Burnham has become the first woman from the First Nations to win the Mrs. Universe pageant, capturing the 2015 award at a ceremony held in Minsk, Belarus.
According to BuzzFeed, Burnham is also the first Canadian to hold the title. Mrs. Universe is a pageant for married women that is unaffiliated with the Miss Universe pageant, which was last held in Doral-Miami, Florida, in 2014.
Burnham usually goes by her maiden name, Ashley Callingbull, and was the second runner-up at the 2010 Miss Canada pageant.
"I'm so proud to say I am now the new @mrsuniverse2015 !!! I am the first First Nations woman to win this title! I am also the first Canadian Delegate to win as well!! Sooooooo happy right now!" Burnham wrote on Instagram.
"With a supportive mother, Ashley has triumphed a childhood of sexual abuse and extreme poverty between Enoch and Hobbema Alberta," best-selling Canadian author Kelly Oxford also wrote on Instagram. "In hopes of becoming a positive role model for other young First Nations women, she ignored the bigots who mocked, 'What will her talent be, drinking Lysol? Signing welfare cheques with her toes?'"
"She is currently working towards her BA in Drama," Oxford continued. "I'm typically anti-pageant and objectification of women, but believe Ashley will be such a positive inspiration for so many Canadian First Nations girls — who are the group of Canadians needing it the very, very most."
Earlier this week, Burnham posted photos with Mrs. Ecuador, Baltics and Siberia:
Fans were quick to show the new Mrs. Universe respect on Twitter.
h/t BuzzFeed