Here's What More Than 20,000 People Marching for #AllLivesMatter Looks Like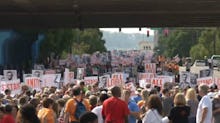 #BlackLivesMatter has changed American politics by drawing attention to police violence against communities of color. But this weekend, conservative talk host and political activist Glenn Beck tried to turn the conversation in another direction with a massive, #AllLivesMatter-themed "Never Again is Now" march in Birmingham, Alabama, co-hosted by Jim Lowe, bishop of Guiding Light Church.
AL.com's Greg Garrison reports the rally and march drew about 20,000 people, accompanied by a host of celebrities like Walker, Texas Ranger star Chuck Norris, actor Jon Voight and Alveda King, niece of Dr. Martin Luther King Jr. Participants made their way along the historic route taken by Dr. King's historic march in Birmingham in 1963.
"Some Birmingham police officers said the crowd could have been as large as 25,000 to 30,000," wrote Garrison. "It may have been the largest march in Birmingham since the civil rights marches of 1963."
Glenn Beck's news network, The Blaze, further reported Beck addressed a massive crowd on "evil" in the world on Saturday, a label he said covered everything from Islamic State massacres and the Charlie Hebdo shooting to Planned Parenthood.
"If we can't say 'all lives matter,' then, honestly, nothing matters," Beck said, according to The Blaze. "The enemy today must start to see us united against evil, and that evil today is ISIS. Evil hides every single day ... it starts with the little things. ... then it builds to the bigger things."
Beck also raised money for The Nazarene Fund, a project aimed at assisting Christian families in the Middle East evacuate as refugees. According to The Blaze, he told the assembled audience the fund had raised $2.7 million of its $10 million goal.
While Beck has in recent years tried to rebrand himself as a civil libertarian, in many ways he's remained as polemical as ever. Earlier this week, Right Wing Watch wrote that Beck used a segment on his radio show to blame the on-air murders of Roanoke, Virginia-area television network WDBJ's staffers Alison Parker and Adam Ward on the liberal media and the Rev. Al Sharpton.