15 Mindblowing Female Photographers Redefining Contemporary Femininity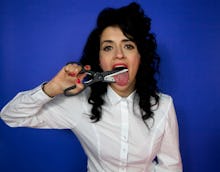 Women depicted in fine art are often nude, alluring and sexually inviting. A 2012 campaign by renowned art activists the Guerrilla Girls said that less than 6% of the artists in the Modern Art section of the Met are women, and across the museum, 85% of the nudes are female. 
The most well-known women in art are usually not artists but subjects as they are seen through the eyes of men: sexually.
While this may not seem like a big deal — after all, it's only art, and many of the images are beautiful — it is reductive. If art is a reflection of society's morals and emphases, even obliquely, then we have some important questions to ask.
Why do considerations of women focus on sexuality first and intellect second? Why don't female artists tend to achieve the same successes as their male counterparts? If we acknowledge that these and related issues may limit the potential of half of the world's population, what can we do about it?
Luckily for us, some women who are asking these questions through their work. If the male gaze has defined women in art throughout history, then perhaps we might consider the rising importance of the female gaze — that is, women seen through women's eyes.
Here are 15 photographers reframing femininity in contemporary culture with sensitivity, subtlety and wit.
1. Sarah Maple
She's brave, bold, self-assured and satiric. Sarah Maple is one of England's most important and influential feminist artists. Since graduating from Kingston University in 2007, she has established a refreshing and powerful visual voice. Most of her work explores what it means to be a young woman, and moreover, a young Muslim woman, in the 21st century.
Looking at her radical photographs, installations and paintings, it's no surprise that she's been lauded and described as the heir apparent to Tracey Emin's throne (even as she calls this comparison "lazy"). The award-winning artist lives and works in Sussex, though she exhibits internationally and speaks at events around the world.
2. Holly Andres
American artist Holly Andres photographs adult women, but some of her most compelling explorations of contemporary femininity explore the transition from girlhood to womanhood. In her Sparrow Lane and The Trail of Sparrow Lane series, Andres's story tells of young girls "in search of forbidden knowledge ... [and] represents the potential loss of innocence'"
Her work is saturated, cinematic, finely detailed and vaguely ominous. Combining the strangeness of Shirley Jackson with the boldness of Nancy Drew, Andres provides a metaphorical map tracing the ridges and valleys of puberty.
3. Tomoko Sawada
What happens when one woman makes herself into hundreds, thousands of unique women? Ask Tomoko Sawada. One of the more established feminist artists on this list, Japanese artist Sawada is interested in identity, individuality, sexuality and stereotypes. In her images, she uses costuming and facial expressions to become many different characters, each with a unique story. 
While every individual character is compelling, the power of her work becomes apparent when these characters are contextualized in the series. Whether she's becoming school girls or potential wives, each series explores complex ideas of place and status in contemporary Japanese society.
4. Lulu Lovering
Like Sawada, Vermont-based artist Lulu Lovering uses self-portraiture to explore identity. Unlike Sawada, Lovering is interested primarily in the internal narrative. While struggling with intense shyness and how to communicate her feelings verbally, she began using photography as an way to express herself. 
The resulting photographs are emotionally dense and endlessly compelling. Each still seems to capture that incredible feeling of being uniquely in sync with another human — perhaps because Lovering is so emphatically, consciously in sync with herself.
5. Laura Stevens
In the award-winning series Another November, Paris-based British artist Laura Stevens photographs heartbreak. As she explained to LensCulture, "whilst adjusting to being a single woman, I started to create a photographic narrative based on the experience of losing love." 
These photographs look like oil paintings by the Old Masters but feel as fresh and evocative as the oncoming chill of autumn. With this mosaic of women, friends and acquaintances met on the street, Stevens illustrates the universality of emotional breaking and rebuilding.
6. Lalla Essaydi 
When you're looking for an artist that fuses conceptualism and traditionalism, look no further than Lalla Essaydi. Moroccan artist Essaydi is most well-known for her incredible portraits of Arab women, most often covered in script. 
Her photographs explore the contemporary Arab femininity, bringing into the picture ideas of Orientalism, Islam and even isolation. By writing on women's bodies, she invites the viewer to consider both the ways women communicate and the ways they don't — by necessity and by choice.
7. Amanda Charchian
Amanda Charchian is a photographer from Los Angeles whose work heavily features nude women, though in unconventional ways. One of the main concepts in her work is an idea she calls a "pheromone hotbox," which became the name to a recent critically acclaimed showing of her work alongside other female photographers. 
In her own words, this is "the specific idea of what happens when a woman photographs another woman intimately, and the biologically confounded process our pheromones go through during that time." These complex sensual, though not explicitly sexual, relationships lend a tension and an allure to her incredible images.
8. Paola Paredes
Ecuadorian artist Paola Paredes knew that she was a lesbian, but didn't know how to tell her family. Being a photographer, she decided to capture the entire conversation on camera. She offers the viewer an unbelievably intimate moment with grace and without pretense. The series of photos, titled Unveiled, is emotional but ultimately affirming.
9. Anna Morosini
Anna Morosini is an Italian artist with an eye for the subtle language of skin and body. Some of her images feel sexual in their intimacy, while others are so physically present that the subject jumps from the page. She photographs all types of people, but her portraits of women seem to deal most deeply with the ideas of physical presence, proximity and the infinite expressiveness of the human body.
10. Phebe Schmidt
Like Sarah Maple, Australian editorial and portrait photographer Phebe Schmidt has a dry sense of humor. Schmidt uses satiric superficiality to make incredibly perceptive comments about the nature and place of women in today's society.
She seems to reject conventional expectations of beauty and gender roles, but she does so by creating images that almost-but-not quite meet those expectations. That said, there is nothing overtly comedic about her work. It's a wry view of our culture, but one that is absolutely necessary in today's dialogue. 
11. Lauren Withrow
Texas-born, Brooklyn-based photographer Lauren Withrow is another artist who works closely with models and the fashion industry, though her most compelling works are portraits. Her work is slightly rougher, more gritty, than some of the other artists on this list. 
Her subjects seem to all be on journeys alone, like runaways. This sensibility is most apparent in her female subjects, where that isolation subconsciously begs questions. Withrow has captured a sense of pent-up energy and even adolescence in apparent adults that feels uniquely millennial.
12. Birthe Piontek
One of the only photographers on this list that explores femininity with and without portraiture, German artist Birthe Piontek's work is gorgeously strange. Curled locks of hair, fish shoved into glasses, a rock sinking into a cushion; somehow these images do convey a version of womanhood. 
Her work is highly intuitive, conceptual and compelling. While these non-portrait images are gorgeous, her portrait work is just as moving. There's a sense of desperation, even futility, that we may be afraid to acknowledge when thinking about contemporary femininity. Piontek doesn't let us get away that easily.
13. Marianna Rothen
If there is such a thing as sexpot sarcasm, Canadian artist Marianna Rothen has found it. Another artist whose work was included in the Pheromone Hotbox show, Rothen's work also explores similar ideas of sexuality, feminine intimacy and post-feminist identity. 
Rothen works primarily with Polaroids, which emphasizes the sense that we're getting a subtle peek into something we weren't necessarily invited to. These images are equal parts '70s free-love commune and '60s movie set, and their cinematic feel adds enormously to their appeal.
14. Zanele Muholi
South African photographer and visual activist Zanele Muholi is most well-known for her amazing works of art that capture the experiences of black lesbians in Africa. She balances fine art with documentary photography to create a visual record of her queer experience. 
Her activist work has immeasurably strengthened the LGBTQ community in South Africa, while her photographs help others understand the beauty and the struggle as it's happening. According to her Instagram, she took this image in Charlottesville, Virginia, while struggling to prepare for a speech.
15. Masha Demianova
Much has been made of the emerging feminist artists in Russia and Eastern Europe and for good reason. In a region where feminism has been rejected by those in power, artists are making the loudest statements. Masha Demianova is one of the photographers who might be considered part of the movement. She also works with models in the fashion industry, but these are uniquely personal shots that veer more towards the narrative than the objective.
Her portraits are intimate, heartfelt and even challenging. She rejects prettiness, opting rather for a contained turmoil. They're cold yet intimate, sumptuous yet edged with brutality.
Correction: Sept. 1, 2015