When the Moment Came for Taylor to Keep Her Promise to Nicki, This Is What Happened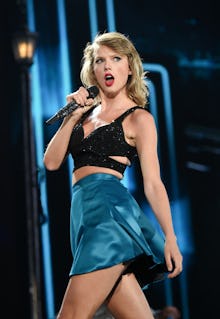 During Taylor Swift's acceptance speech for best video of the year for "Bad Blood," one person was forgotten: Nicki Minaj.
Much had been made of their feud ahead of the 2015 MTV Music Video Awards. What would happen? Would Swift still bring Minaj on stage, as she promised in her second tweet that started the fight in the first place?
Earlier in the night, Minaj invited Swift onto the stage for a performance of her song "The Night Is Still Young," transitioning into Swift's own VMA-winning "Bad Blood." But when it came time for her own speech, Swift didn't bring Minaj up — she didn't even acknowledge the rapper or their momentary feud.
That didn't stop Swift from bringing up all her dates — women from the "Bad Blood" video including Cara Delevingne, Mariska Hargitay and more. Notably absent: Kendrick Lamar, featured on the remix of "Bad Blood" used in the video.
"I wish he was here," she said of Lamar, who was also nominated for his own video for "Alright." Swift also beat out Beyoncé's "7/11" video, Ed Sheeran's "Thinking Out Loud" and Bruno Mars and Mark Ronson's "Uptown Funk."
"I know there's been a lot of discussion about this video and what it means," she said at the end of her speech. "But I'm just glad we live in a world in 2015 where girls can play princesses and girls can play soldiers."