Kelly Osbourne Just Took a Stand Against Red Carpet Sexism at the VMAs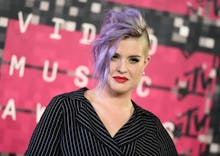 Before asking Rebel Wilson anything, MTV Video Music Awards pre-show red carpet host Kelly Osbourne invited a bearded gentleman to join them. He asked Wilson about what she was wearing, then walked away before Wilson answered — and Osbourne continued the interview.
This was not an accident or avant-garde hosting choice, but Osbourne's contribution to pushing back against the normal sexism that pervades red carpet events in the industry.
"I do agree with what they've been saying recently, like, 'Why don't we ask the women about career achievements and why they're here tonight instead of just what they're wearing?'" the host told MTV on Saturday.
Osbourne isn't the first to advocate for better red carpet coverage. #AskHerMore, a campaign originally launched by the Representation Project before the 2014 Oscars, went viral during this year's Academy Awards as reporters asked sexist questions about women's dresses and diets instead of their work.
In addition to rejecting the sexist treatment of celebrities, Osbourne pushed back on gendered expectations she faces as a host. Questions about fashion are valid, she acknowledged, but she shouldn't be required to ask them because she's a woman.
"I asked MTV if I can bring my best friend to work with me so he can ask fashion-related questions, since everyone will be expecting me to say it," Osbourne told MTV. "So, all he's saying is 'What are you wearing?'" 
Osbourne's public stand is a commendable one, and one that will hopefully simply be standard protocol in the future.