MTV Video Music Awards 2015: Full Winners List, Best Performances and Full Recap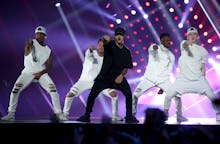 From Kanye West unofficially declaring his candidacy for president in 2020 to Justin Bieber seemingly breaking down onstage, the 2015 MTV Video Music Awards in Los Angeles were a night to remember. Among the night's biggest winners were "Bad Blood" singer Taylor Swift and artist Nicki Minaj, who kicked off the night with a high-energy performance. 
This year's VMAs host, Miley Cyrus, walked viewers through the lineup of awesome performances and celebrity presenters, beginning with pop princess Britney Spears. Here's everything to know about the music industry's most anticipated night of the year, including who won, best performances and memorable moments: 
2015 VMAs list of winners and nominees by category:
Video of the year
Best male video
Best female video
Best hip hop video
Best pop video
Best rock video
Artist to watch 
Best collaboration
Video with a social message
Best art direction
Best choreography
Best cinematography
Best direction
Best editing 
Best special effects
Best performances: Among the night's best performances were Minaj's jaw-dropping opening act. The singer surprised viewers by having Swift join her onstage for Minaj's "The Night Is Still Young" and Swift's "Bad Blood."
Demi Lovato performed her hit single "Cool for the Summer" with Australian rapper Iggy Azalea.  
Justin Bieber performed both his latest single, "What Do You Mean" and "Where Are U Now." The artist appeared to get emotional at the end of his performance after thanking the audience. 
Recap of the night's biggest moments: Perhaps the most talked about moment came when Kanye West went onstage to accept his video vanguard award. The 38-year-old rapper then criticized MTV for exploiting artists and said he would be running for president in 2020.
Swift's face after perfectly summed up viewers response to West's speech: 
Cyrus' fashion certainly caught the attention of viewers, too. The former Disney Channel star, known for her outlandish and at times revealing fashion choices, made several wardrobe changes throughout the night. 
The most tense moment of the VMAs came when Minaj called out Cyrus for recently taking aim at the "Anaconda" singer in the press. 
When accepting her award for best hip hop video, Minaj turned to Cyrus and said, "Back to this bitch that had a lot to say about me the other day in the press. Miley, what's good?"
The night ended with a surprise performance by Cyrus herself. The artist made an unexpected announcement that her new album was available online.