Miley Cyrus' Dreads Bring Cultural Appropriation Moment to 2015 MTV VMAs Red Carpet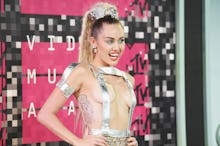 Miley Cyrus was going to have all eyes on her no matter what she wore to the MTV Video Music Awards. But her get-up for Sunday night's 2015 VMAs, which she's hosting, involved a ponytail full of blonde dreadlocks.
Unsurprisingly, not everyone was a fan — including the many who called out Cyrus for cultural appropriation in wearing a traditionally black hairstyle.
As some on Twitter were quick to point out, Miley's "appropriating moment" may be even more objectionable considering her recent comments about Nicki Minaj.
In an interview with the New York Times, Cyrus critiqued Minaj's Twitter "rant" from July saying, "If you want to make it about race, there's a way you could do that. But don't make it just about yourself. Say: 'This is the reason why I think it's important to be nominated. There's girls everywhere with this body type.'"
While Cyrus seemed to critique Minaj for the sin of self-centeredness rather than for talking about race, her words rang insensitive for many — and her past style choices don't help. 
Miley also sported dreads during an appearance on Jimmy Kimmel Live last week, and she spent nearly all of 2013 facing criticism for her gold grills, twerking dance moves and overall "ratchet" style seemingly cribbed entirely from black culture. 
Cyrus might not have intended any harm with her dreads, but as far as celebrity offenses go, trying on other cultures' hairstyles tends to be a risky one. Kylie Jenner was recently slammed for her dreadlocks, with Hunger Games star Amandla Stenberg explaining why in a pointed message:
"when u appropriate black features and culture but fail to use ur position of power to help black Americans by directing attention towards ur wigs instead of police brutality or racism #whitegirlsdoitbetter."
We have a feeling some would say the same of Miley.