Nicki Minaj Calls Out Miley Cyrus on Stage at the 2015 MTV VMAs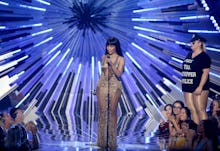 Taylor Swift and Nicki Minaj may no longer have "Bad Blood," but Minaj and Miley Cyrus sure as hell do.
In an intense moment we couldn't have expected — but probably should have, considering what's happened in the past week — Minaj called out Cyrus onstage. Minaj was accepting the best hip-hop video award for "Anaconda" when she trained her sights on the 2015 MTV Video Music Awards host.
"Back to this bitch who had a lot to say about me the other day in the press," she said, with an expression that indicated this wasn't just a publicity ploy. "Miley, what's good?"
Judging from Rebel Wilson's expression in the background, no one was ready for Minaj to say that.
Cyrus, who called Minaj's tweets about the VMAs "not too kind" in a New York Times interview published Thursday, tried to play the moment off. "We all do interviews and we all know how they manipulate," she said. Minaj, looking plenty furious, wasn't letting up.
Cyrus, for her part, seemed pretty surprised by it.
That would lend credence to the story that it wasn't staged — as Minaj's expression indicated too.
Twitter quickly exploded, both #TeamNicki:
#TeamMiley:
And #TeamLetsAllGetAlong:
Two things we know for sure: One, this will be what the 2015 VMAs are known for. Two, Minaj is not having any of it.
August 30, 2015, 10:13 p.m.: This story has been updated.