MTV VMAs 2015 Red Carpet: Best Dresses and Looks From Miley Cyrus to Chrissy Teigen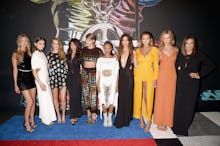 The 2015 MTV Video Music Awards kicked off in Los Angeles on Sunday night. No star-studded event would be complete without a red carpet, so to start the night off, here are the best looks of the night, from singer Miley Cyrus to American model Chrissy Teigen.
The VMAs aren't exactly known as the most fashionable red carpet around. Rare is it that you'll see celebrities donning the names "Chanel," "Armani" or "Prada."
However, that doesn't mean the night isn't without its memorable outfits, including looks that took thought, ingenuity — maybe even a bit of bravery. 
For the 2015 show, serious bravery was required for Cyrus' first outfit of the evening as the VMAs host substituted overall straps for a shirt. Then there was Chrissy Teigen's black dress, which was essentially a high-end loincloth. Nicki Minaj, FKA Twigs and Britney Spears played the de rigueur sheer-and-cutouts game. 
In not-so-shocking fashion, Taylor Swift was more conservative in pants and a matching crop top, with not a sheer panel or cutout in sight. 
Check out all the VMAs looks below: