Amber Rose Just Showed the World That Red Carpet Fashion Can Make a Feminist Statement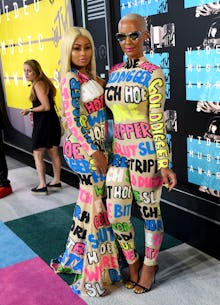 If there's anywhere to make a huge red carpet statement, it's the VMAs. 
Models Amber Rose and Blac Chyna came to the Microsoft Theater in Los Angeles Sunday night in body suits covered in misogynist slurs like "whore," "gold digger," "bitch" and "slut." They were accompanied by two friends wearing black and white outfits decorated with the anti-gay slur, "faggot." 
Also at the VMAs, Rose's famous ex, Kanye West, will be honored with the Video Vanguard award Sunday evening. Earlier this year, West remarked that he had to "take 30 showers" after dating her and moving on to his now-wife, Kim Kardashian. At the time, Rose countered, "We were happy when we were together! And now all of the sudden, I'm getting slut-shamed because we're not together anymore and it's not fair."
She later took to Instagram to open up about being the target of slut-shaming, specifically from her ex. "It's important for me because I deal with it every day," she said in March. "I deal with it via social media, people out on the street. I feel like women deal with that constantly on a daily basis, and I'm sick of it. I'm here for my girls."
Rose and Chyna are also slated to star in a reality show together, and Rose is organizing a large-scale Slut Walk in October in Los Angeles.