Taylor Swift Just Premiered Her "Wildest Dreams" Video at the VMAs — And It's Awesome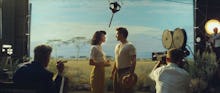 Taylor Swift doesn't premiere a video like most pop stars. She waits for the largest audience possible. 
Such was the case on Sunday, when she debuted her latest video for "Wildest Dreams" at the MTV Video Music Awards pre-show, broadcasting it live to the whole nation — and it lived up to the hype.
Set on the African savanna, the video shows Swift filming a romantic film alongside some rugged hunk, who (because this is a Taylor video) turns out to be an asshole and breaks her heart.
It's as big a Hollywood-budget thriller as her "Bad Blood" video — which was nominated for seven awards — but is far more tasteful. This might be the video that dominates next year's awards.
We knew it was going to be epic. She teased last Sunday, with a 15-second clip filled with rain-soaked kisses and doves flying through thunderstorms. It's got far less star power than "Bad Blood." But it's still got plenty of incredible shots. The entire animal kingdom appears in the video.
... including a little Cecil shot ...
... and all the big-budget Hollywood-level cinematics we've come to expect from the Taylor Swift empire.
According to the video's last shot, all proceeds will go to wild animal conservation efforts through African Parks Foundation of America.
Unapologetically epic: It's the only way Taylor Swift can be, and the video is emblematic of Taylor Swift's VMAs domination. She has already won pop video of the year. Though Miley's hosting is sure to be a wild time, Swift is up for nine out of 11 eligible awards. 
If she sweeps, there might not be any headlines tomorrow lacking Swift's name in them.