Rebel Wilson Made a Statement With Her MTV VMAs Dress That's Worth Talking About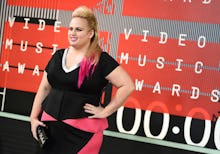 Miley wore overall straps as a top, Taylor Swift brought a model-filled entourage and countless celebrities bared their skin with sheer, cutout creations. But the MTV Video Music Awards' red carpet also saw a quieter style statement: a simple black dress with neon pink accents, worn by Rebel Wilson. 
When asked the classic "who are you wearing" question, Wilson gave the designer name: Eloquii, one of the only plus-size brands mentioned on the red carpet that night — or any night.
"Rebel was a huge fan of the dress and Eloquii was thrilled to create the design for her," a rep for the brand told Mic. "The dress is a custom-made version of the Studio Origami Dress, with a flash of hot pink that was added to it by the Eloquii team specifically for Rebel."
Rebel's style statement could be read, on the one hand, as an unfortunate reminder that high-end designers — the household names like Prada and Chanel — rarely make clothes for plus-size women. Female celebrities above a certain size tend to be seen walking red carpets in one of a select few designers: Octavia Spencer wears Tadashi Shoji almost exclusively, while Queen Latifah is almost always seen in Carmen Marc Valvo.
As Melissa McCarthy told Redbook in 2014, "Two Oscars ago, I couldn't find anybody to do a dress for me. I asked five or six designers — very high-level ones who make lots of dresses for people — and they all said no."
But there are designers out there making clothes for plus-size women. There are mainstream brands delivering actual on-trend, cool clothes above a size 12. One of them is Eloquii, a plus-size line started by The Limited, then shuttered a year and a half later, only to be revived by loyal employees with a new investor. The brand's closing was mourned for the same reason it's now beloved: offering trendy clothes that don't insult plus-size women's bodies or fashion sense.
Oh, and they're affordable. A version of Rebel's dress is available online (in fact, it's on sale), for the countless plus-size shoppers out there.
There aren't nearly enough stores doing that right, which means it's valuable to shine a light on the ones that are. Especially on the red carpet.