Rebel Wilson References #BlackLivesMatter in the Worst Way Possible at MTV VMAs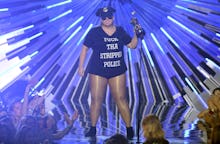 The first reference to police brutality at the 2015 VMAs was one most viewers will probably want to forget.
Wilson (or whoever wrote her bit) thought it made sense to introduce the award for best hip-hop video wearing a police officer uniform. The movement against racially biased police brutality — which Wilson summed up as "a lot of people [having] problems with the police" — prompted the actress to take a stand against police strippers.
Wearing a "F— Tha Stripper Police," Wilson began with what looked like a rant about (stripper) police unfairly targeting her. "They come to your house. You think you're getting arrested," she said, "and you just get a lap dance and it's usually uninspired." 
What followed was even worse: Wilson actually hinted that she was upset a police officer didn't perform sexual favors. "I hired a police stripper for my grandma's 80th and he wouldn't even feel her up... I hate this injustice, hence the shirt," Wilson said. A jarring joke, given police officers in Texas intrusively searched a black woman's vagina against her will in June. 
According to the Washington Post, a black unarmed man has been shot by police every nine days so far this year — and less than 1% of police shootings are investigated. Violence against women of color and LGBT folks, although rarely discussed, also occurs at disproportionate rates. For Wilson to get onstage and make light of a movement that draws attention to this reality is more than just not funny, it's offensive.