Justin Bieber Just Silenced His Haters With a Perfect Performance at the VMAs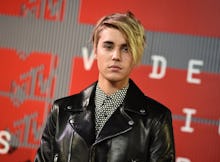 There are few artists we love to hate more than Justin Bieber. Ever since he got his start as a YouTube sensation turned Usher's pet project, the list of things to mock about the star has grown longer and longer — from the bowl cut, to his obnoxiously catchy hooks, drag racing and cocky Calvin Klein ads.
But on Sunday night, all of that fell away. It was just Bieber, the mic and a handful of backup dancers. And good lord, was it good.
He came with two songs prepared with some strong choreography. The first was "Where Are Ü Now?" — his collaboration with Skrillex and Diplo, complete with an extended dance break during the song's drop. For his second song, he moved to a small center platform and cut some footwork over his new single, "What Do You Mean?" released Friday.
After a verse and chorus, the lights cut out, leaving the crowd without sight of Bieber for a second, before he was lifted high into the air, ending his performance high above the VMAs stage.
When he returned to the floor, Bieber sat crouched for a long time, seemingly crying. Perhaps he was overwhelmed by the power of his own performance, or by the fact that people are still willing to give his music a chance after the highly publicized bullshit he dragged his fans through. Almost immediately, #BieberisBack began trending on Twitter. 
Whatever the reason for Bieber's tears at the end, the performance proves one thing: There's a reason Justin Bieber has become a monolithic celebrity — he's damn good at what he does. 
Bieber is back.