Justin Bieber Cries Onstage at the MTV VMAs, Twitter Reacts to Singer's Emotional Moment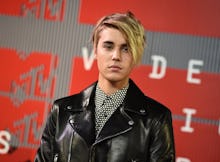 Justin Bieber appeared to break down in tears onstage at the 2015 MTV Video Music Awards, and social media users took notice. 
It was unclear what had the 21-year-old Canadian singer, who performed his new single "What Do You Mean," crying after his performance. Bieber, who wore all black onstage and soared into the air at the end of his song, then thanked the crowd with his hands together before tearfully folding.
Some Bieber fans tweeted their support for the young artist. 
Shortly after the singer's VMAs performance, #BieberIsBack began trending on social media. 
The artist has had his fair share of troubles over the past year. He's seemingly tried to leave his bad-boy tactics behind following a series of run-ins with the law and after his management team allegedly intervened to get the young singer back on track, Hollywood Life reports. 
Welcome back, Bieber.