The 2015 VMAs Were the Most Important in Years Because Women Spoke Their Minds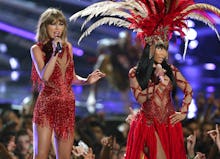 Yes, Kanye West announced he's running for president in 2020 during Sunday night's MTV Video Music Awards. In a rambling, incoherent, amazing acceptance speech for his Video Vanguard Award, the rapper made like his wife and broke the Internet. In a night full of unbelievable performances and comments, it was the standout.
But it wasn't what made this year's VMAs important. That honor goes not to a man, but to the women.
Among the VMAs top six categories — video of the year, best female video, best male video, best hip-hop video, best pop video and artist to watch — women took home four Moonmen statues. Taylor Swift cleaned up with three of the top awards, while the generally snubbed Nicki Minaj won best hip-hop video for "Anaconda." (Fetty Wap won artist to watch, and a woman literally couldn't beat Bruno Mars and Mark Ronson for best male video.)
Beyond the awards, though, there was a prevailing sense throughout the speeches and performances that women were running the show; in one case, quite literally, as Miley Cyrus hosted. She closed the show with a wild performance featuring scores of RuPaul's Drag Race alumni, then dropped a surprise free album online.
Going into the night, it didn't seem possible to upstage Cyrus. Yet that's exactly what Swift and Minaj did. Their narrative was perfectly set going into the evening: The two artists had beefed, made up and were primed for a reconciliation. That they did so in performance was all the more memorable.
Nothing was quite as important, however, as Minaj calling Cyrus out. She was responding to Cyrus describing her tweets about the VMAs as "not too kind" and saying the rapper made it about herself. Instead of letting it slide, Minaj held the host accountable.
The move came as a shock, not the least of all to Cyrus. (Honorable mention for best shocked face must go to presenter Rebel Wilson, whose face in the above GIF is priceless.) Should it have been such a surprise, though? Minaj isn't one for mincing words, whether calling out Iggy Azalea or pointing out the racial inequality at the VMAs.
Minaj was always going to say something if she won. Cyrus had policed her tone in the press, and Minaj deserved a chance to respond. We should be grateful she got that chance — not only because it made for good TV, but because it brought a frankness to the proceedings. 
It's a shame Cyrus didn't want to engage in the conversation further, but she clearly knew she didn't stand a chance. "Don't mess with me, bitch," Minaj mouthed to the crowd.
This bluntness is what made this year's VMAs crucial: Women spoke their minds. Minaj was open about her issues with other women, whether in resolution or in furthering the feud. Swift publicly made up with Minaj and talked honestly, if awkwardly, about her relationship with West when presenting him the Video Vanguard Award.
Such frankness from female artists hasn't been seen on the VMAs stage since 1997, when Fiona Apple infamously declared that "this world is bullshit."
If male artists like Meek Mill and Drake are going to be celebrated for their disagreements, women deserve the same chance to be so blunt. It's not always going to be pretty. That's not the point. The popular music scene is incredibly competitive, with only so much room for the best. Yes, there are friendships, but there are also intense rivalries. Restricting these conversations to subtweets at most is an insult to these intelligent, well-spoken women.
There are already terrible takes flying around blaming Minaj for using vulgarity and decrying her speech as a "threat." All this does is create a culture where female artists feel they have to be silent about their opinions. They instead should be loud, assertive and even aggressive — not just for entertainment at awards shows, either. Great work often comes from pain and anger.
Luckily, Minaj isn't the kind to back down. If anything, she'll come out of this even more ready to make her case as who she is: a singular, fearless voice in the 2015 music scene. More artists would do well to follow her example.