Kanye West Calls Out MTV and Announces He's Running for President in 2020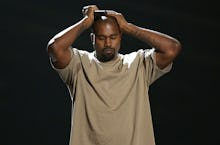 Kanye West has always been at the vanguard of music. 
On Sunday night, at the MTV Video Music Awards, he finally got recognized for it. He received the night's esteemed Michael Jackson Video Vanguard award, which celebrated his years of artistic excellence. And the presenter of the award? None other than Taylor Swift. 
It's clear they've come a long way since 2009 when Kanye West snatched her mic to tell the world Beyoncé's video was better than hers in ever way. "To all the winners," Taylor Swift told the audience. "I'ma let you finish, but Kanye West has had one of the best careers of all time."
As cheesy as the lines were, she was not wrong. But what happened next was truly extraordinary. 
Kanye took the mic and for the next 15 minutes, the VMAs audience enjoyed an uninterrupted stream of Kanye visionary gold. He called out the VMAs for exploiting artists for ratings, talked the sweet joys of marijuana and announced some unbelievable news.
Nothing about award shows will be the same after this.
Kanye went deep. "Thank you Taylor for being so gracious," West began, before talking about all the fallout that conversation caused. "I often look back to the first day I met you also. I think about when I'm the grocery store with my daughter and I'm having a great conversation about fresh juice and they say — you're not that bad!"
He talked about going to baseball games and getting booed by thousands. "What would I have done differently?"
"If I had had a daughter at the time, would I have gone up and grabbed the mic from someone?" he asked, but he never answered his question.
"There's a contradiction. I fight for artists, but at the same time I've been disrespectful to artists," he said. "I didn't know how to say the right thing, the perfect thing ... Sometimes I feel like all this shit... sometimes I feel like I died for artists to be able to have an opinion."
He then turned his ire on MTV. "You know how many more times, MTV announced they were gonna give me Taylor Swift was going to give me that award because they were get more ratings."
"I don't understand award shows. I don't understand how they get 5 people who work their entire life, sell records, sell concert tickets, to come, stand on a carpet, and for the first time in their lives, be judged on the chopping block, have the opportunity to be considered a loser. I don't understand it, bro."
"Fuck that bro! It's 2015. I will die for the art I believe in. And the art ain't always going to be polite."
He revealed where his loose tongue came from. "I know you're all wondering did he smoke something before coming out her tonight. Yeah, I rolled a little something up. I took the edge off."
But that rebel swagger seems to be part of what Kanye sees being an artist and a millenial is all about — literally blazing new trails. "We the millennials bro," he said. "We not going to control our kids with brands. We not going to teach low self esteem and hate to our kids. We gonna teach our kids that they can be something. We gonna teach our kids that they can stand up for theyself. We gonna teach our kids to believe in themselves."
"I don't know what I'm going to lose after this — it don't matter bro, because it's not about me, it's about, ideas, bro -- new ideas, people with ideas, people who believe in truth," he said. "And yes, as you probably could have guessed, I have decided in 2020 to run for president."
Twitter lost it. Kanye broke the internet, without any nudity involved.
It seems, that presidential run might actually happen.
No award show will ever be able to match that moment. Kanye West is king, the VMAs are his throne room and the country may soon be his subjects.
You can watch Kanye's full speech below: