Pharrell Williams Performs 'Freedom' at MTV VMAs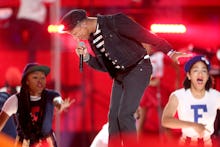 American singer Pharrell Williams performed his song "Freedom" at the 2015 MTV Video Music Awards on Sunday, sending a powerful message to viewers about the state of freedom around the world. 
The song is a compelling protest anthem about liberation and was a follow-up to the 42-year-old artist's 2013 hit "Happy."
The song promotes living life unfettered by other people. Much like "Happy," which garnered attention worldwide for its upbeat message, "Freedom" touches on some of the most important social and political issues of our time. 
The feel-good tone of "Freedom" certainly came across in Williams' performance. Social media users were pleased to see Williams perform the song at the VMAs and recognized the deeper significance of the lyrics. 
The video for Williams' "Freedom" depicts scenes of rebellion from around the world, including a Lego remake of a moment from the 1989 Tiananmen Square protests. Watch the music video below: