Obama Announces Alaska's Mount McKinley to Be Renamed Denali — and Lawmakers Are Angry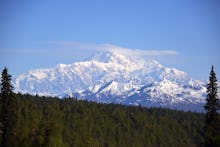 On Sunday, President Barack Obama announced the United States would officially rename Alaska's Mount McKinley as Denali, the mountain's traditional name. Obama revealed the change shortly before he touched down in his first major visit to the Last Frontier as part of a larger mission to raise awareness about the threat of global climate change.
The peak, the tallest in the nation, was originally named Denali by the indigenous tribes of the area before it was rechristened in 1896 for the Republican presidential nominee William McKinley. McKinley, who went on to become the nation's 25th president, was assassinated in 1901 and never visited Alaska, the New York Times reported. The mountain's new name was officially adopted by the U.S. government in 1917.  
Denali is a traditional Alaskan word for "the high one" or "the great one." 
The change back to Denali was made official through an order by Secretary of the Interior Sally Jewell.
The move also made good on promises by Obama to strengthen relations with native tribes, many of which have long histories of past grievances with the U.S. and its government. In 2014, Obama made the first visit of his presidency to a Native American reservation and took part in a traditional powwow. 
Though efforts to rename the mountain have been ongoing since 1975, the issue has traditionally run afoul of precarious presidential politics, as McKinley remains a favorite son of the perennial battleground state of Ohio. Alaska, by contrast, carries far less electoral clout. 
After the announcement, criticism from the Ohio congressional delegation was swift and bipartisan, with the state's junior senator, Republican Rob Portman, leading the charge. 
House Speaker John Boehner, also from Ohio, said he was "deeply disappointed" with the move, while Republican Rep. Bob Gibbs reportedly said, "This political stunt is insulting to all Ohioans, and I will be working with the House Committee on Natural Resources to determine what can be done to prevent this action."
The sentiment was echoed by Ohio Democratic Rep. Tim Ryan. "We must retain this national landmark's name in order to honor the legacy of this great American president and patriot," he said, Fox News reported. 
Alaskan lawmakers, however, reacted with elation. The state's senior senator, Republican Lisa Murkowski, and only congressman, Republican Rep. Don Young, applauded the change.