This Woman's Tattoo Is Starting a Powerful Conversation About Depression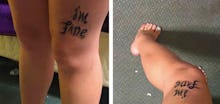 Our best tattoos tell our most personal stories. That's why hundreds of thousands of people are currently sharing this powerful photo of a 20-year-old Facebook user's tattoo. 
On Bekah Miles' left leg, her new ink says "I'm fine" when read head-on. But when read from her vantage point, upside down, it translates to "Save me," which sends a strong message about the realities of depression for many young people.
Depression is a serious issue that affects millions, so we should talk about it. According to the 20-year-old Oregon student's post, which has more than 340,000 likes and 280,000 shares at time of writing, few people in her life were aware of her condition before she got her tattoo.
"This is one of the most difficult things to open up about, because it's extremely hard for me to feel vulnerable. But this needs to be talked about," she wrote to her followers and Facebook friends.
"That's why I got this tattoo; they are great conversation starters. This forces me to talk about my own struggle, and why the awareness of it is important. You'd be surprised by how many people YOU know that struggle with depression, anxiety, or other mental illness." (Mic has reached out to Miles and is awaiting comment.)
Miles is far from alone in her struggle with depression. The National Institute of Mental Health reported in 2013 that nearly 7% of U.S. adults suffered a depressive episode the previous year. Research suggests that millennials in particular are disproportionately affected by depression: A study from earlier this year found that one in five millennials has dealt with depression at work, and the 2014 National Survey of College Counseling Centers reported a 58% increase of college students being treated for clinical depression over the past five years.
Since depression is so common, Miles' message is one to which many of us can relate. As for her choice to go with the script-y "I'm fine/save me" illusion?
"To me, it means that others see this person that seems okay, but, in reality, is not okay at all," Miles wrote in her post. "It reminds me that people who may appear happy may be at battle with themselves."
h/t BuzzFeed