Hurricane Fred 2015: Forecast, Projected Storm Path and Updates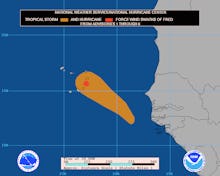 The second hurricane of the 2015 Atlantic hurricane season formed early Monday near the Cape Verde Islands off the coast of Africa and was gathering strength as it moved northwest. Weather officials warned that the storm, dubbed Hurricane Fred, could bring "life-threatening" conditions to parts of the islands before weakening Tuesday, the National Oceanic and Atmospheric Administration's National Hurricane Center reports. 
Fred is a Category 1 hurricane, packing winds of around 85 mph, and was moving northwest at around 12 mph early Monday. Experts said the storm could bring coastal flooding, mudslides and as much as 10 inches of rain in some areas of the Cape Verde Islands.
By 11 a.m. EST Monday, the storm's center was located about 55 miles west of Rabil, the second-largest town in Cape Verde on the island of Boa Vista. Storm officials expected the hurricane to continue traveling west-northwestward over the Atlantic after passing through the islands. 
Hurricane Fred became the sixth named Atlantic storm of the 2015 hurricane season and may have been an instant record breaker. According to the Weather Channel, no hurricane has ever made landfall on the Cape Verde Islands, records show. 
Fred was centered thousands of miles from the United States, making it highly unlikely that the storm would reach American shores. "A review of the records back to the mid-1800s shows that only once has a storm been within 100 miles of where Fred is expected to go and reached the United States," News 13 reports. "Bottom line, we are not concerned with Fred making a U.S. impact."
Last week, Tropical Storm Erika tore through the Caribbean, killing at least 20 people as it barreled down on Puerto Rico, Dominica, Haiti, the Dominican Republic and the U.S. Virgin Islands. 
Meanwhile, Hurricane Jimena continued to surge in the Pacific Ocean on Monday, the Associated Press reported. Jimena, a massive Category 4 hurricane with winds topping 150 mph, was located about 1,330 miles east of Hawaii but posed no threat to land.