What Kanye Was Really Saying With His VMAs Speech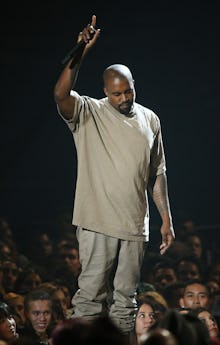 You've got to give it to the MTV: They know how to engineer an award show. From start to end, Sunday night's Video Music Awards were scripted for maximum impact. There couldn't have been a more explosive opening than Taylor Swift appearing alongside Nicki Minaj to perform "Bad Blood." And Swift was the only artist who could present Kanye West with the Michael Jackson Video Vanguard Award, cheesily twisting his "I'ma let you finish" line to nail that cocktail of catharsis and warmth.
However, the moments that made this show truly memorable were the moments when everything appeared slightly out of the producers' control. Of those, the best came when West picked up the mic.
After receiving his award for a career's worth of artistic excellence, West put aside the moon man. He took the audience on an epic, 12-minute journey through his mind. He spoke on three main topics: his own legacy, the cruelty of award shows and the new millennial mentality. He added, almost as an afterthought, that he would be running for president in 2020.
His train of thought is difficult to unravel, but it boils down to a single point: Truth is more important than popularity. Award shows do not embody this.
His own legacy: West began by looking back, specifically at his complicated history with Swift, which began when he interrupted her acceptance speech at the 2009 VMAs. "I do fight for artists, but in that fight, I somehow was disrespectful to artists," he said Sunday. "I didn't know how to say the right, perfect thing." The "half a bottle of Hennessy" he said drank before taking the stage that night in 2009 likely didn't help. (On Sunday night, he was rolling up, telling the audience he had been smoking his drug of choice.)
West kept returning to a "fight" throughout his speech, and what he seemed to fighting for was truth. He stopped short of reasserting the truth he was trying to share that night in interrupting Swift: that Beyoncé should have won best female video for "Single Ladies (Put a Ring on It)" because she had one of the best videos of all time. She eventually won video of the year, but how can a female artist win video of the year, but not win best female video?
Because award shows are bullshit and they toy with artists' emotions, West said.
The meaninglessness of award shows: Kanye has watched undeserving performers win at numerous venues.
"I sat at the Grammys and saw Justin Timberlake and Cee Lo lose; Gnarls Barkley and the FutureSex/LoveSounds album. I ain't trying to put you on blast, but I saw that man in tears. He deserved to win album of the year," he told the VMA audience. "I still don't understand award shows. I don't understand how they get five people who work their entire life, won, sell records, sell concert tickets, to come, stand on a carpet and for the first time in their life, be judged on the chopping block and have the opportunity to be considered a loser. I don't understand it, bro!"
The only way award shows can make sense is to realize that award shows don't put artistic merit first. They prioritize always ratings, reach and money. "You know how many times MTV ran that ['I'ma let you finish'] footage again, because it got them more ratings?" West said. "You know how many times they announced Taylor was going to give me the award — because it got them more ratings?" 
You could feel the producers squirming in their control booth. And he's right. 
The Grammys voting process is a complex system, but a lot of it boils down to money and influence. Across the board, Grammy Academy members tend to vote for the albums by the biggest names, which will draw more viewers and more sales to already chart-topping albums. From an audience perspective, the VMAs seemed to do the same thing by honoring Swift's "Bad Blood" over what many saw as far more deserving artistic achievements.
Art triumphant: West encouraged his audience to look past the money and break free. He thinks that young people have the right mentality to actually make that happen.
"We the millenials, bruh," he said. "This is a new mentality. We not going to control our kids with brands. We not going to teach low self-esteem and hate to our kids. We going to teach our kids that they can be something. We can teach our kids that they can stand up for themselves. We going to teach our kids to believe in themselves."
Artists, millennials and any and all people should not look for validation in brands or awards. Real value is in ideas, West asserted — in the truth. Immediately after sharing those values, he announced he would be running for president in 2020, likely to help bring these priorities to the fore. Shortly after, he got his first vote, from radio personality Charlamagne tha God:
The brutal honesty of West's speech was a breath of fresh in a show that felt meticulously orchestrated and contrived. He spoke his mind and bit the hand that fed him. But sometimes those hands need to learn who they're dealing with. They're dealing with artists, visionaries, innovators and they don't deserve to be toyed with — none less so than Kanye West.
Read the full transcript of West's speech here.