Nearly Two Years Later, Here's How Legal Weed Is Working Out for Uruguay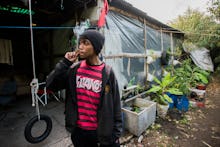 In December 2013, Uruguay became the first country in the world to legalize the sale of recreational marijuana, passing laws promoted by then-President José Mujica designed to set up the world's first nationally controlled marijuana industry.
Under the new laws, Uruguayans earned the right to grow small amounts of marijuana for their own use. On a larger scale, the federal government would allow private licensed growers to produce weed that would then be sold in pharmacies to registered customers at a fixed-rate price said to be as low as a dollar per gram.
The government planned to genetically track all plants produced under the program, which was designed to regulate and limit marijuana consumption instead of relying on supply-side enforcement against drug dealers.
Nearly two years later, the country is moving forward with the new plan. It's a plan that's showing signs of promise, but not without some problems too.
It's a mixed bag: Parts of the law legalizing the growth of up to six marijuana plants for personal consumption and establishing "cannabis clubs" that can grow significantly more are off to a brisk start. But due to a series of setbacks, the state-run pharmacies are running behind schedule.
In July, the Guardian reported the regulatory body supposedly in charge of implementing Uruguay's legal weed market, the Institute for Regulation and Control of Cannabis, has only six civil servants and no independent budget until 2016. It has also failed to move forward with plans to open government-run marijuana dispensaries around the country. 
Uruguay's police have also continued to harass and arrest marijuana users, including the 3,000 or so who have registered for the database for marijuana users that will eventually be used to track consumption.
In March, newly elected President Tabaré Vázquez, who hails from the more conservative wing of the ruling Broad Front, was still wary of Mujica's plan. He went so far as to tell the media the idea of marijuana in pharmacies was "incredible" and that he would "pay close attention to the effects of the plan to evaluate if it is necessary to backtrack the law."
Vázquez's administration also hinted the rollout of the plan would be delayed by both technical hurdles, such as growing the plants, and increased scrutiny of elements of the program, including the pharmacy sales.
In some ways, Uruguay's troubles resemble those that hit Washington state's legal weed industry in 2014, when regulatory hurdles slowed down the implementation of a voter-approved initiative to set up state-run pharmacies. Authorities there were slow to approve licenses for Washington's 334 planned pharmacies, leading to only a limited number of retail locations opening by July.
But the outlook is still optimistic: The Guardian noted a plan to open the dispensaries was "in its final stages," with the government hoping to clear five firms ready to begin sales by Christmas. According to the PanAm Post, the National Drug Board will finish approving firms to allow industrial-scale production of marijuana plants on Sept. 3, with the first harvest occurring roughly four months later.
In an August dispatch, Agence France-Presse reported while the pharmacies have yet to be set up, grow shops are currently picking up the slack. Uruguayan activist group the Cannabis Studies Association told the AFP an estimated 20,000 people are growing their own weed in the country, with an additional 15 cannabis clubs growing larger amounts of pot.
"Business is booming. Tourists come looking for souvenirs, and locals come to buy everything you need to grow it and smoke," entrepreneur Enrique Tubino told AFP. One grow shop co-owner, Manuel Varel, added his biggest investments as of late were in advertising due to increased competition.
With the first sales slated to hit Uruguayan stores by April 2016, Uruguay's grand experiment is still just getting started. But if the United States' experience with legal marijuana is any indication, the benefits could still be considerable. The Huffington Post reports the states of Colorado and Washington have collectively collected more than $200 million in taxes since legalization in January 2014, freeing up public funds for regulators and drug education.
Despite Uruguay's historic decision to nationally legalize the drug, implementation hasn't been without setbacks. However, as the early signs show, when the program is working, it's working very well.