#Kanye2020: Kanye West for President Is Producing the Internet's Best Memes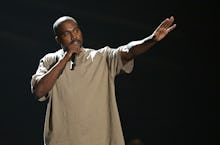 Almost immediately after Kanye West announced his presidential ambitions for the 2020 election at Sunday night's MTV Video Music Awards, the world began imagining life in the United States of President West. What issues would Kim K champion as first lady? Would Keeping Up With the Kardashians be taped in the White House? Would the president's new album be titled Late Registration: Campaign Season? 
These unanswered questions surrounding West's big reveal have solicited some of the greatest memes produced on the Internet since, well, Donald Trump's campaign announcement. 
Fans are already replacing many of the nation's historical landmarks and major symbols with West's face, as he presumably would do immediately after being elected to the most powerful public office in the world:
Surely, the first family's newest season of Keeping Up will chart some of its highest ratings. Does Kris Jenner get her own office in the West Wing?
Although his campaign is still five years away, ratings appear high for the candidate, who of course will be representing the Bro party:
Fans are already looking forward to the fresh campaign swag sure to accompany Yeezy's campaign season:
The best part of West's campaign will undoubtedly be the countless mean-mugs flashed at other candidates during stump speeches and debates:
And as the Internet continues to debate and explore a potential Kanye West candidacy, other White House hopefuls are gearing up their counterattacks: