Emily Miller's Rumi Spice Startup Provides Afghan Farmers an Alternative to Growing Opium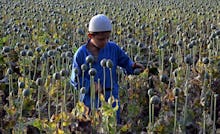 Farming has historically been a steady source of sustenance for generations of Afghans. Today, it's not as economically secure as it once was.
Around 60% of Afghans rely on agriculture to survive, and 40% of the country's gross domestic product is derived from the agricultural sector, according to USAID, a United States government agency. But "decades of war and neglect devastated Afghanistan's farmland, displaced millions of people and largely destroyed the country's existing infrastructure," USAID reports. There remains, however, one consistently lucrative alternative to food crops: opium poppies. 
Emily Miller, a young military veteran and West Point graduate with a passionate commitment to social justice, is changing all that with her startup. Rumi Spice sells saffron, a highly valuable cooking spice, produced exclusively by Afghan farmers internationally, giving them a cost-effective alternative to growing poppy.
During her two deployments to Afghanistan as a cultural support team member with Special Operations Command, Miller became exposed to the economic hardship many Afghan agriculturalists endure. This experience planted a seed years before Rumi Spice came to be. 
Miller wasn't satisfied with the military's response to Afghanistan's economic and political instability. "I was so frustrated with how the military always seemed to be reactive to problems. We were trying to fix symptoms of a much larger problem," Miller told Mic. "Rumi Spice is trying to get to the bottom of the problem itself by empowering Afghans directly, not just handing over aid money or drinking tea with an elder."
The company's mission is about economic empowerment. "We understand first-hand the challenges and opportunities facing the country, and the need to strengthen Afghanistan's greatest resource: its people," the Rumi Spice website says. "By connecting Afghan farmers directly to the international market, we seek to catalyze market driven economic development — one farmer at a time."
The backstory: After leaving the military, Miller and her best friend, Kimberly Jung, applied to Harvard Business School and "miraculously, we both got in, which is still beyond me," Miller told Mic. At HBS, both were confronted with the question of what they wanted to do with their lives. The answer? They wanted to do something meaningful.
Miller and Jung had a friend, Keith Alaniz, who was still in the military and working in Afghanistan with AFPAK Hands during their first year at business school. While he was there, Alaniz noticed a surfeit of saffron, so he called his two friends with an idea: It was an exciting, socially responsible business opportunity.
"They [farmers] didn't know how to reach the international markets. They didn't know how to brand the product [or] package it, kind of all the things that U.S. consumers expect," Miller said. Believing they could meaningfully impact the lives of Afghan farmers by offering an opportunity to sell their product internationally, the team created Rumi Spice, a company which now consists of six people.
Rumi Spice cuts out the middle man in order to maximize profits for the farmers. The company reinvests a minimum of 10% of its profit in helping develop agricultural infrastructure for the farmers they work with. Each farmer processes the saffron individually; Rumi Spice packages the product in the U.S. and ships it to distributors. However, the company recently completed a Kickstarter campaign to fund a processing facility within Afghanistan, which would also help create more local jobs.
The poppy problem. One of Afghanistan's biggest problems, particularly in the wake of the country's eviscerated infrastructure, is finding an economically viable alternative to growing opium poppies, an illicit commodity that helps fund the Taliban.
Three-quarters of the world's opium originates from Afghanistan. Many farmers argue, despite the dangers, it is the most reliably profitable product to grow. In 2013, the country produced more than 6,000 tons of opium, worth roughly $3 billion. 
NPR spoke with Abdullah, an Afghan whose family has cultivated opium poppies for decades and who says they don't have any other options financially. "The major source of income for people in Helmand is opium," Abdullah told NPR.
Despite the United States spending more than $7 billion on opium eradication, production is going strong. The counter-narcotics efforts have come at a price. "You can't wage a counterinsurgency and conduct serious opium eradication at the same time," Jonah Blank, a RAND Corporation Afghan specialist, told Al Jazeera. "What you're doing is impoverishing farmers. You're saying, 'Trust us, and by the way we're going to destroy your crops and leave you with nothing.'"
While combating the complicated problem of opium production was not the primary motivation for Rumi Spice, it has definitely factored into their objective. "The fact that saffron is an economic alternative to poppy for opium is great," Miller said. "We're trying to get farmers who previously grew poppy — we're trying to get them to grow saffron," she said, admitting that fundamentally tackling the problem was beyond the scope of her company.
But Miller is optimistic about their impact and linked their efforts back to the team's favorite Afghan proverb. "Our other tagline is, 'We may not be a billion dollar business, but we seek to make a billion dollar impact.' And I think that really kind of sums up what we're trying to do for the farmers and for Afghans generally."