Presidential Polls 2016: Latest Iowa Polling Has Donald Trump and Ben Carson Tied for Lead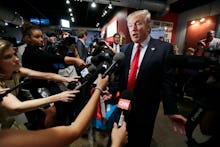 Donald Trump has consistently dominated the Republican primaries in national polls, but at least in Iowa, the New York real estate tycoon could face much stiffer competition. 
The latest Des Moines Register/Bloomberg poll shows neurosurgeon Ben Carson trailing Trump by just five points in Iowa, home to the candidates' first balloting contest of the 2016 election season. However, when likely Republican voters' first and second choice candidates are combined, the numbers show Trump and Carson tied for the lead.
As is the story nationally, Trump leads the 17-member Republican field in Iowa with 23% support among likely Republican voters. Another 9% of Republicans say Trump is their second choice for president, the new Des Moines Register/Bloomberg poll, conducted last week, shows.
Carson comes in second with 18% of voters saying he is their first choice for the party's nomination. Another 14% say they'd vote for Carson as their second choice. That means both candidates share 32% support each among voters when first and second choices are taken into account.
Here's how the top 10 Republican candidates for president measure up in Iowa, based on voters' combined first and second choices: 
"Carson has steadily gained support over the summer despite keeping a relatively low profile, especially compared to Trump," Politico reports. "But Carson, who has never held political office, has similarly tapped into a strong anti-Washington sentiment among voters."
Nationally, Trump has continued to poll strongly with likely Republican voters. The latest Quinnipiac University Poll, released last week, showed Trump with a record 16-point margin over Carson, his closest contender — the widest lead yet for any Republican candidate this election.
Among the Democrats, Vermont Sen. Bernie Sanders closed the gap between himself and democratic front runner Hillary Clinton in Iowa, according to the new Des Moines Register/Bloomberg poll. Polling showed Sanders just seven points behind Clinton in Iowa, where the former secretary of state once led by 26 points.