"Tangerine" Lyrics: Miley Cyrus and Big Sean Collaborate on One of 'Dead Petz' Best Tracks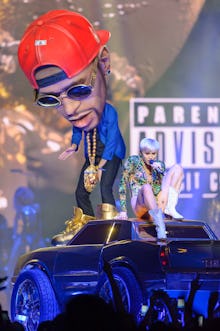 Miley Cyrus dropped her new album Miley Cyrus and Her Dead Petz Sunday night at the close of the MTV Video Music Awards, stealing the show from award winners, Kanye West and his 2020 presidential campaign  announcement and even Cyrus' own newfound beef with rapper Nicki Minaj. 
The album is a collaborative project Cyrus put together with the Flaming Lips frontman Wayne Coyne and features work from other artists, including producer Mike Will, Sarah Barthel, Ariel Pink and Big Sean. Dead Petz is available entirely for free on MileyCyrusAndHerDeadPetz.com.  
Source: Soundcloud
"Tangerine," a slow track featuring Big Sean, explores a psychedelic narrative surrounding some sort of trip Cyrus takes with the "Blessings" rapper. "Sun sods crest upon his hazard shield, shows you what you know, ain't what you feel/ Shooting beam, blinding me, the sun is a giant spaceship tangerine/ It shoots out rays of hopeful golden morphine," Cyrus sings as her voices echoes over a drum rhythm. 
"All I see is warm champagne, confetti on the floor from last night still laying/ The same playlist on my phone still playing, as my eyes strain, jealous of the sun wishing I could do the same," Big Sean raps.
"Man, but how I'm supposed to rise though, when shit just hold me down?" he continues. "How I'm supposed to shine, man, through all the smoke and clouds/ I'm on a trip, no luggage, no ticket, I'm looking in the mirror and I'm the only thing missing/ I been tryna find myself, I feel so long-distance, made a promise to myself I wouldn't just be a statistic."
Big Sean riffs on Dead Petz's overarching theme of altered states of mind, whether it's from a trance brought on by drug use or the mere act of contemplating life: "Twenty-some but my soul a hundred-some/ My mind's racing, it's racing, and honestly I can't remember what it's running from/ I just hope that I come in one/ Seems like everyone I know is getting married, everyone else is getting buried/ Life should come with a sign saying 'Results May Vary.'"
Cyrus ends the song with a cryptic message: "I take my place along the memory, the sun's so high, it's rising in the heat/ Try to fight the sunrise but it comes for you/ Love is brighter than the fiery truth."
Read the full lyrics to "Tangerine" here, and check out the full 23-track Miley Cyrus and Her Dead Petz here.