These Are the Revolutionary Clothes that Women's Closets Have Been Waiting For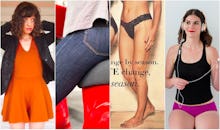 Before you know it, you'll be able to 3-D print your outfits at home, and your floral jewelry will actually bloom. Yes, fashion tech is having a moment.
But these innovations, while eye-catching, aren't exactly what women really need to improve their lives. Luckily, there are women actually creating clothing incorporating innovations that have nothing to do with 3-D printing or wearables. 
In a challenge to industry norms, these independent designers are making clothes that not only look good on women, but also work with their lifestyles in ways that are convenient and empowering. 
Clothes you can wear everywhere, all day: Too many women have drawers' worth of what we'll call "caveat clothes" — that one top that you can only wear with one bra, with that one pair of pants, when it's not too cold, or too hot, and on and on.
"Women's fashion is far too often difficult to manage: too restrictive or too delicate; high-maintenance or too difficult to coordinate," designer Evelyn Frison told Mic. It's no wonder that some say people only wear about 20% of their closets, as the Wall Street Journal reported in 2013.
Frison's response to this problem was creating Pivotte with co-founder Yehua Yang. The Kickstarter-funded line covers the basics: cute jackets, classic tanks, perfect pants and even a little black dress. But the extra edge to each piece is that it's built to survive your whole day, from yoga in the morning to a date after work, with materials that are water-, stain- and odor-resistant just like your favorite workout clothes. Each seam is strategically placed for optimal movement and fit, the designers say on Kickstarter.
Women looking for functional clothing can also romp around town in the Jolie Coquette playsuit, which was fully funded on Kickstarter in less than a week. At first glance, it's simply adorable; but behind the seams, there's a hidden pocket for credit cards, bra strap holders and a hidden snap crotch so you don't have to deal with the worst part about rompers. 
Finally, it has really deep pockets, just like the boys get! (There's a pun about the gender wage gap somewhere in there.) That means women can even jettison their purses, something plenty are jonesing to do. (Although for now, the playsuit only comes in two sizes, small and medium.)
By aiming to cater to women's real-life needs, Jolie Coquette founder Kimber-Lee Alston said, "women can feel less like objects and more like subjects."
"Modern women's apparel ... is still being made according to archaic standards and ideals in which women and femininity are micro-aggressively objectified," Alston told Mic. 
Putting function at the forefront of design, as Alston is doing with the playsuit, is increasingly the way of the future, as the recent $7 million Kickstarter success of the Travel Jacket proved.
Living (not just dealing) with your period: One real-life experience most women face? Periods, which bring with them bloating, hormonal changes and equipment in your underwear. Companies like Dear Kate and Thinx are easing the 5-7 day worry of every month with technology packed into panties.
Thinx uses the right mix of leak-resistant, moisture-wicking and stay-dry layers that eliminate the need to tampons or pads. Thinx offers varying fits for different flows, so some people use them as backups on light days, while others go undies-only.
"I use pads, as I'm uncomfortable with tampons, but you can feel like you're wearing a [diaper]. ... The idea of just wearing [underwear] was appealing — no bulk, and no fear if my skirts blew up unexpectedly — as was the idea of not having to spend so much money on pads each month," Australian customer Kyla Hall told Mic previously. 
Another period-confronting clothing line, Dear Kate, is also addressing other common experiences for women. The brand's "performance underwear" include a wide variety of lady-friendly wares, from undies to yoga pants with period protection.
It's a sign of progress, Dear Kate founder Julie Sygiel told Mic. When Sygiel started the line in 2008, she said, it was the "Dark Ages of periods." Investors were uncomfortable with the brand's original name, Sexy Period, and Sygiel said one publication didn't publish a story on them because it was "too controversial." But addressing women's everyday clothing concerns shouldn't be taboo.
Finally, clothes that actually fit you, and only you: Despite how much the words "perfect fit" are thrown around, most women know the concept to be near-mythical. The current sizing system is inconsistent and ever-changing, making fitting room experiences fraught with compromise. The worst offender? Jeans.
Qcut is one company addressing the issue with customization. Founder Crystal Beasley told Mic that too many women feel as if clothes are designed for a woman other than them — someone shorter, taller, bigger, smaller. So she worked with Gerald Ruderman (who came up with the original sizing algorithm for Levi Strauss) to create a new way to size. Input your height, weight, shoe size, bra size and the size of your best fitting pair of pants, and QCut's algorithm will pick from one of 400 sizes of jeans that will (hopefully) be perfect for you.
These made-to-order jeans are revolutionizing not only fit, but also the manufacturing process. Beasley is eliminating the need for giant factories filled with pre-made clothes, and she plans to build a special Qcut factory to fully embrace bespoke, slow fashion.
But it's less about changing the fashion system to the sake of it, and more about how women feel.
"Proper fit is more than merely covering your ass," Beasley told Mic. "It's about feeling good in your own skin and conveying who you are to the world."
She's part of this new fleet of independent designers disrupting women's fashion from the inside out. While companies like Gap, Abercrombie and J.Crew are struggling to sell stylish clothing to women, they might do well to examine what women actually need.