The Duggar Sisters Just Took a Major Step Forward in Educating People on Sexual Assault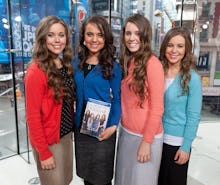 On the same network that recently canceled their family's reality television spectacle 19 Kids and Counting, Jessa Seewald and Jill Dillard spoke publicly about past sexual abuse they faced from their brother, Josh Duggar. In an hour-long TLC special, Breaking the Silence, the Duggar sisters, with several male and female sexual abuse survivors, spoke about their experiences, People reports.
Michelle Duggar, who has consistently referred to her son Josh's actions as "mistakes," also appeared in the special. She and her daughters took part in a training seminar led by Darkness to Light, a sexual abuse prevention organization.
A cycle of denial: Since news broke in May that Josh Duggar abused five girls when he was a teenager, the sisters have appeared reticent to label his actions as sexual abuse. In interviews, the sisters and parents Jim Bob and Michelle Duggar have presented a united front to the press — one entrenched in rape culture and filled with rhetoric of victim blaming and minimization of trauma. The parents claim their family dealt with the abuse not with professional counseling but by sending their son to work construction with a family friend.
The documentary did not directly address the ordeal with their brother Josh, but the sisters broke from the overall denial through the documentary on Sunday. "It's amazing to understand that there are so many people that deal with this exact same thing in their own families," Dillard said. "So just being educated is very good."
Her sister agreed.
"I feel this should be a discussion people are having, even regularly," Seewald said. "I think that it shouldn't be a taboo subject; that we should be bringing awareness to child sexual abuse and talking about this."
Also featured in the documentary was Erin Merryn, who is fighting to pass Erin's Law, which would require sexual abuse prevention education in public schools in all 50 states. So far, 26 states have passed the law, and it is pending in 17 others. A similar, nationwide bill was introduced into the Senate in July.  
Breaking the silence: Though Seewald and Dillard have been largely silent in the media, their social media accounts show signs that they are learning to deal with the abuse and subsequent media firestorm. Recently, Dillard retweeted Duggar family pastor Ronnie Floyd's announcement of a five-week sermon series on God's thoughts on human sexuality. Meanwhile, Seewald posted a Bible verse called "Walk in the Light" to her Instagram. Many commented that the vague post referenced her brother's admission into a rehab facility and his admission that he used extramarital affair site Ashley Madison to cheat on his wife.
Absent from the documentary was family patriarch Jim Bob Duggar who in past interviews has strongly downplayed his son's actions, saying "he wasn't an adult," the assault only lasted "like, a few seconds" and maintained that the sisters "didn't even know he had done it."
The documentary was a collaborative effort between TLC, the Rape, Abuse and Incest National Network and Darkness to Light as part of a slate of public service announcements and online resources meant to help survivors of child sexual abuse. As TLC was the original network to give the Duggars a platform, the airing of this mea culpa documentary seems to be a step in the right direction — damage control that may actually help stop the cycle of child sexual abuse.