Kanye West New Album 2015: Will Video Vanguard Winner Release 'Swish' This Year?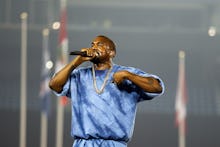 He was the Video Vanguard winner at Sunday's MTV Video Music Awards, announced his 2020 presidential campaign for the White House and even cleared the air with Taylor Swift on national television. However, Kanye West's new album is still nowhere to be found.
Swish, as it's currently believed to be named, is the seventh highly anticipated studio album from West, who took to his often-inactive Twitter account earlier in the year to promote the new project title. 
Although the 38-year-old artist hasn't said anything about the album since posting the title to social media, it appears as though Swish should be on its way. Two singles have been released so far: "Wolves," featuring Sia and Vic Mensa, and "All Day." Both songs are the latest follow up to 2013's Yeezus, West's sixth album.
Source: Soundcloud
Rapper Theophilus London, a close friend of West's, said he was listening to Swish "on repeat" following Drake's OVO Music Festival in Canada. 
London clearly thinks West's latest project is going to crush any of the performer's naysayers, critics and competition. The rapper also states artist Travis Scott's new album Rodeo is "about to change lives of the youth." Scott's Rodeo has an anticipated release in September of this year, according to Music Times.  
In an exclusive interview with GQ, West was finally candid surrounding the mysterious upcoming date for his release, according to Pitchfork: "I think most likely September. I go back and forth," West tells GQ. "Like, should it be September or should it be October? Should it be November? When Beyoncé was working on her last album, she took a while. I was thinking it could somehow come out in June, like Yeezus, and just kill it for the summer. But then I'm like, I have to work on Adidas and be with my child."
Everything we know so far about West's upcoming project has changed over time, from his deadline for release, to the name of the work itself. There are rumors the album drop will be exclusively heard on Jay-Z's music streaming service, Tidal. However, there are also the opposing rumors Swish will live entirely on Apple's new music streaming service.
As the secrecy behind West's latest album continues, one thing is clear: Yeezy fans are beginning to fear their beloved rapper may wait until the 2020 presidential election before releasing Swish.