"Dooo It" Lyrics: Miley Cyrus' First Single Off New Album Is a Message About Peace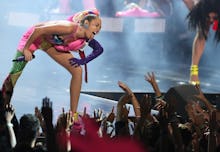 "Dooo It," a new song by Miley Cyrus, is everything we love about the 22-year-old artist — edgy, restless and only slightly nonsensical.
On the surface, "Dooo It" is a song about Cyrus' love for marijuana, a habit the singer isn't shy about. At a deeper lever, the song is a message about freedom of expression. Sure, Cyrus smokes pot, but more importantly, she's about promoting peace and love, the artist says.
"Yeah I smoke pot, yeah I love peace / But I don't give a fuck, I ain't no hippy," the lyrics read. "Feel like I am one with the universe/ And all I need is right here/ Feel like I am part of the universe/ And it's part of me." 
Source: Soundcloud
The song continues, "Why there is a sun/ And how do birds fly/ And why there is a moon way up in the sky/ Why there is trees/ And what the fuck is love/ Why there's flying saucers/ Watching from above." (For the full lyrics click here.)
Cyrus dropped "Dooo It," along with 22 other tracks that make up her new album "Miley Cyrus and Her Dead Petz," online Sunday night to coincide with her hosting the 2015 MTV Video Music Awards in Los Angeles. 
The singer unveiled the song onstage to close out the VMAs. 
Cyrus explained the inspiration for "Dooo It!" in an interview with MTV. "I think a lot of times we love to talk about things we wanna see and change but it's so easy to [just] talk about it," Cyrus told the network. "It takes the energy and effort to actually go out and do it and make what you want actually happen."
She said she was "really excited" to see how the song would be received. "I hope they can see past the fact that I'm singing about marijuana, and they can also hear me begging for peace," she said.
Watch the glitter-filled music video for "Dooo It" here: