Stunning NASA Image of Three Pacific Hurricanes Is First in Recorded History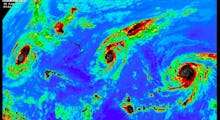 NASA captured not one, but three massive hurricanes twirling around the Pacific Ocean on the same day, the first time such a phenomenon has ever been documented, the National Hurricane Center reports. The stunning image, taken by NASA's Terra satellite, shows the three hurricanes (and one very small Hawaiian Islands chain) spread out across the vast Pacific Ocean. 
At this rate, the space agency is going to need a much wider camera lens.
NASA snapped the photo on Saturday, according to the space agency. In the left of the image is Hurricane Kilo, which was the last of the three storms to reach major hurricane status on Saturday, the Weather Channel reports. 
At the center is Hurricane Ignacio, which appeared close to Hawaii but won't hit the islands directly, federal weather experts said. Hurricane Jimena, the most powerful of the three hurricanes with winds topping 145 mph, appears in the right of the frame.
Three really powerful storms: All three hurricanes measured Category 4 on the Saffir-Simpson Hurricane Wind Scale. A Category 4 hurricane has winds between 130 and 156 mph and could cause "catastrophic damage" should it make landfall. The highest rating on the scale is a five. 
On Monday, Kilo was centered about 480 miles south-southwest of Midway Island, the Central Pacific Hurricane Center reports. Ignacio was located about 280 miles east of Honolulu, Hawaii, while Jimena was centered about 1,330 miles east of the Hawaiian Islands. 
Not only was the NASA image the first time scientists captured three powerful storms in the same frame; it was also the first time on record that three Category 4 hurricanes have occurred in tandem in the central and eastern Pacific basins, the Weather Channel reports. 
A busy hurricane season: The 2015 Pacific hurricane season has been a busy one, to say the least.
Climate scientists have predicted between 15 and 22 named storms in the Pacific this year, including between seven and 12 hurricanes. "These ranges are centered well above the season averages of 15 to 16 named storms, eight hurricanes, and four major hurricanes," the National Oceanic and Atmospheric Administration reports. "If the predicted upper bound of eight major hurricanes occurs, it would tie for the most recorded in the 1971-2014 observational record."
Scientists blame the active hurricane season in part on unusual warming of the Pacific Ocean this year brought on by El Niño, the Weather Channel reports.