Netflix Movies September 2015: New Releases for Movies and TV Shows This Month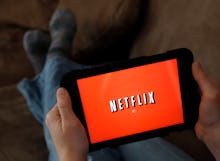 September should be considered the month of binge-watching, as Netflix will be undergoing some major renovations this month.
The subscription-based streaming service is planning a variety of new film and TV show options for users on the site as early as Sept. 1, while less popular works will be cleared to make way for the newcomers.
Most notably, the cable TV series selections will see some big names enter the streaming-party, including Bones, season 10; The Walking Dead, season five; and Portlandia, season five. American crime drama fans will want to break out the popcorn and get comfortable, as Gotham is also coming to Netflix on Sept. 21, the same day season two premieres on FOX. 
The following TV shows premiere on Netflix throughout September:
72 Dangerous Animals: Australia, season one
Arthur, season 17
Battle Creek, season one
Da Jammies, season one
Los hombres también lloran, season one
Mister Rogers' Neighborhood, volume one
Mouk, season one
Person of Interest, seasons one to three
Puffin Rock, season one
The League season six
Zoo Clues season one
Baby Daddy season four 
Madame Secretary season one
Melissa & Joey season four
Space Dandy season two
Fugitivos season one 
Longmire season four
Portlandia season five 
Comedy Bang! Bang! season four
Call the Midwife season four
Kambu season one 
Sin Senos no Hay Paraiso season one
Zoobabu season one
The Blacklist season two
The Fosters season three
The Mysteries of Laura season one
Gotham season one
The Following season three
Person of Interest season four
Blue Bloods season five
Hawaii Five­-0 season five
Parenthood season six
VeggieTales in the House season one
The Walking Dead season five
Bones season 10
Agatha Christie's Poirot series 12 
Murdoch Mysteries season 4­7
As Netflix removes several dozen films from its database this month, including World War Z, The Expendables 3 and Anchorman 2: The Legend Continues, fans of indie films and thought-provoking narratives will enjoy a breadth of new options from the silver screen.
The Canyons, an erotic thriller starring Lindsay Lohan, was only shown in select cities and theaters following its world premiere in New York in 2013. George Clooney fans will be excited to hear Up in the Air is going to be available for streaming starting Sept. 1. If any Netflix users have yet to see the Rambo trilogy, fear not: Rambo: First Blood, Rambo: First Blood Part II and Rambo III: Ultimate Edition will all be available on the first of the month as well.
Check out the full set of new films and other specials joining Netflix's roster below:
Avengers Confidential: Black Widow and Punisher
Blackbird
Capital C
Combustion
Divorce Corp.
Giggle and Hoot's Best Ever!
Hamlet
Hardball
Heather McDonald: I Don't Mean to Brag
Lawrence of Arabia: Restored Version
Masters of the Universe
Mississippi Damned
Our Man in Tehran
Pandas: The Journey Home
Rambo: First Blood
Rambo: First Blood Part II
Rambo III: Ultimate Edition
Shake the Dust
Sleepy Hollow
Such Good People
The Adventures of Sharkboy and Lavagirl
The Monster Squad
Up in the Air
Zathura
Black or White
Miss Julie
Drumline: A New Beat
Bad Night
6 Years
Love at First Fight
Teen Beach Movie 2
About Elly
God Bless the Child
Madame Bovary
It Happened Here
The Roughnecks
Why Did I Get Married?
Pixies
Closer to the Moon
Cowspiracy: The Sustainability Secret
Rubble Kings
The Bank Job
The Road Within
Moonrise Kingdom
Reservation Road
Keith Richards: Under the Influence
Philomena
SMOSH: The Movie
The Loft 
Iris
The Canyons
Mandela: Long Walk to Freedom
Monster High: Boo York
R.L. Stine's Monsterville: Cabinet of Souls
Leafie: A Hen Into the Wild
Midnight's Children
Ned Rifle
Check out what TV shows and films are being added, along with specific dates, here.