Meet the Gay Millennial Republicans Who Want to Transform the GOP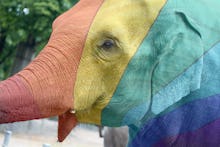 In the Venn diagram of identity politics, never has there been an intersection so narrow as the one between gays and Republicans. For the few individuals who straddle those disparate communities, the tension between the two groups can be extreme. Relations between gay Republicans and the larger LGBT community, fraught with accusations of either single-issue myopia or treachery to the cause, are only outmatched in discord by the relationship between gay Republicans and their party of choice, whose leadership and rank-and-file members still overwhelmingly oppose their right to marry, among other things.
But young gay Republicans, long considered anathema by the GOP and LGBT communities alike, are trying to move past those troubled histories. For a new generation of queer conservatives, the way to change the Republican Party's reputation on gay issues isn't by lobbying its candidates or shaping its policies behind the scenes — it's by running for office themselves.
As the Republican Party's lingering issues on the topic of LGBT rights continue to cause headaches nationally, a new generation of out and proud gay Republicans promises to change the party's anti-gay reputation from the ground up. These candidates and their supporters are sidestepping the cynical identity politics of previous party leaders, seizing on the support of millennial compatriots who are increasingly less likely to define themselves by party identity, and who overwhelmingly support LGBT rights.
The Grand Old Party is getting grander, and it's an opportunity for coalition-building that Chrys Kefalas won't be passing up.
Kefalas, a former Capitol Hill staffer and Justice Department speechwriter, is the sole declared candidate seeking the Republican nomination for the U.S. Senate in Maryland in the race to replace retiring Democratic Sen. Barbara Mikulski. "I think this is about pivoting to the issues that matter to most Americans, not the divisive issues that split people and split parties," Kefalas told Mic over coffee in Washington, D.C.'s Penn Quarter neighborhood.
Despite growing up in a staunchly Democratic Greek-American family in Baltimore, Kefalas earned his political stripes working in the congressional offices of Rep. Bob Ehrlich, another moderate Republican whose unlikely rise in a deep-blue state put him on the political map. When Ehrlich was elected governor in 2002, Kefalas followed him to Annapolis. It was in Ehrlich's gubernatorial offices that Kefalas, who first identified as a Republican in his teens and realized he was gay in his early 20s, first came to terms with his sexuality.
"The first time I really thought about my sexuality in the context of my professional life was when plaintiffs in a case challenging prohibition of gay marriage came to [us]," Kefalas said. "My former colleagues in the office had a discussion afterwards — 'Who thought [gay marriage] was right?' Except for my two progressive colleagues in the office, no one else said anything supportive." He shrugged. "So after the Ehrlich years, I sort of had to come to grips."
After Ehrlich left office in 2007, Kefalas got a job as an attorney with the Department of Justice. He spent the better part of a year going on unfulfilling dates with women ("Talk about the Greek connection — I got so many 'This is my niece, you should meet her!' setups") and attempting so-called "reparative therapy," with little success. "By the end of that, I'm like, 'I've done everything I could and I still feel this way,'" he said. "So I told my parents in 2010, and then I testified on marriage equality in 2011."
While an attorney at the DOJ, Kefalas publicly urged the Maryland legislature to support full marriage equality, testifying before a state Senate committee that opposition to same-sex marriage is inconsistent with "the animating principles — individual liberty, personal freedom and limited government — that gave rise to a movement and party that I call home."
The gay political community welcomed him with open arms. Kefalas worked with the nonprofit Equality Maryland to successfully pass pro-marriage legislation, and in 2012, Maryland became the ninth state to legalize gay marriage. Kefalas then enlisted with the group Maryland Voters for Marriage Equality to defend the law during a voter referendum on the issue that same year. Last year, he joined 300 other conservatives in signing an amicus brief urging the Supreme Court to rule in favor of marriage equality in the case Obergefell v. Hodges.
Although Kefalas made inroads with some Republicans by arguing that freedom to marry without government intrusion is a conservative principle, he found that his personal narrative was more persuasive in convincing those who were still on the fence. "Speaking about marriage equality in terms that conservatives embrace was a part of that — individual liberty, personal freedom — I think that helped," Kefalas said. "But I do think most people turned on that personal appeal. If you know someone who is gay or lesbian who has the same aspirations you do, the same family values you do... I think that had more of a resonance in effect, overall."
Kefalas says that his sexuality has been a non-issue, both with Republican Party leadership and rank-and-file voters. "Since launching the exploratory committee in May, I haven't even heard about my sexuality from anybody that I've met," he said. "It's never come up in any discussions with party officials or members of the House of Delegates or members of the State Senate." The only people who really seem to care, he said in mock accusation, are journalists. "It's always the lede of any story that comes out about my candidacy."
Although Kefalas faces a long road in his bid to replace one of the Senate's liberal stalwarts, Maryland political insiders see his inclusive campaign narrative as a compelling asset, particularly in comparison to the already contentious race for the Democratic nomination.
"I think this election 2016 is going to be a great test," Kefalas, "We have a campaign that's totally pro-equality — unabashedly so — and I'm not running away from it."
Millennials are key to that campaign's success. Kefalas' hopes for his candidacy rely, in large part, on millennial Republicans turning out to vote. The majority of millennial Republicans support same-sex marriage, and see their party leadership's intransigence on LGBT equality as a serious obstacle to winning young voters, who overwhelmingly support marriage equality as a group. The Republican Party's disinterest in addressing the concerns of the nation's largest voting-age group may not be an immediate concern, as the party still enjoys the support of an older generation of fervent (and socially conservative) supporters. But as these supporters age out of the electorate, the GOP risks permanently alienating the next generation of voters.
"Millennials are just this wonderful, insightful group of people, because no matter what your political leanings may be, if you are a millennial, nine times out of 10 you are pro-equality for everybody," Aisha Moodie-Mills, president and CEO of the Gay and Lesbian Victory Fund, a nonpartisan nonprofit that works to elect LGBT leaders to public office, told Mic. "Even Republican millennials are saying, 'We need to be pro-LGBT issues.'"
This has created an atmosphere uniquely beneficial to young, gay Republican candidates, who might not have been viable contenders even four years ago. "There are lots of Republicans, straight and otherwise, who we do great things with, who share our same political values," said Moodie-Mills, whose organization's win rate averages at roughly 70% every election cycle. "There are more gay Republicans holding public office today, and running for office today, and that's a great thing. We're seeing a few more people step up to the plate."
Kefalas' experience, however, isn't totally representative. His campaign for the U.S. Senate is a historical first — no other first-time Republican candidate has ever run for Congress as an out gay person. The vast majority of elected seats held by LGBT politicians, according to Moodie-Mills, are in city councils or local and state legislatures. Even then, those positions are frequently clustered in progressive cities or regions. "There are currently 11 states in the U.S. that don't have any out legislators," Moodie-Mills said. "And then you have some really big states, like Florida, or Pennsylvania, where there is only one out person in the entire state legislature."
Despite that progress, intra-party tensions still exist. Despite having demographic trends on their side, gay Republican candidates seeking election to those local positions still face certain party leaders and voters who view gay candidates and issues as contradictory to what the GOP stands for. Amos Goodman, a Republican financial consultant running to fill an empty seat in the Suffolk County Legislature in Long Island, New York, can attest to that. A first-time candidate for office, Goodman hasn't faced nearly as easy a time winning over the conservative establishment.
"I had high hopes of a campaign focused on issues, done in a transparent manner," Goodman told Mic at his campaign office in East Hampton. "It's apparent to me now how fanciful that was."
Goodman, a fast-talking graduate of the University of Chicago and Georgetown University who uses phrases like "sub rosa" in casual conversation, is equally at ease strolling the gay-heavy Two Mile Hollow Beach as he is showing a reporter how to shoot a target at 50 yards at the Maidstone Gun Club. Politically oriented small talk, be it about shooting berm regulations or helicopter-produced noise pollution, comes easily to Goodman, whose family ties to the East End run deep. Goodman's family home, originally a bunkhouse built by his grandfather in the 1950s (painter Jackson Pollack wrapped his car around a tree on their property; Goodman once spent a summer ripping out bathroom tiles stained with the urine of novelist William Gaddis), now features an office decorated with maps and demographic posters of Goodman's would-be district. The effect is one of an exceptionally well-run campaign for student body president, a comparison Goodman delights in. "Hey, I don't have a Facebook billionaire husband to bankroll my fantasies," he said with a raised eyebrow.
But Goodman's puckish attitude hasn't inoculated him from the unique irritations of New York state politics. After the Supreme Court ruled in favor of nationwide marriage equality in June, Goodman posted what he described as a "relatively benign" Facebook status supporting the court's decision. The Facebook post sparked a backlash that even the most cynical politicos would find unseemly.
"They went nuts," Goodman put it simply.
"They" are the Conservative Party of New York State, a right-wing political party exclusive to New York. Rather than running candidates of their own, the Conservative Party generally cross-endorses Republican candidates across the state as a stamp of far-right approval, alternately playing kingmaker or spoiler, depending on the caprices of party leadership.
"They ended up withdrawing my line," Goodman said, referring to the obscure ballot process by which the Conservative Party withdrew its support after his Facebook post, "despite the fact that they were walking around with petitions with my name." The party takes advantage of New York's unusual fusion voting system, which allows a single candidate to receive votes from more than one party. By withdrawing his line, the Conservative Party cut off Goodman from all party-line votes cast by its members, narrowing his chance of victory against his Democratic opponent.
He still praised the forthrightness of the Conservative Party leadership as the drama unfolded, if nothing else. "They were very frank — it was actually refreshingly transparent. I didn't agree with it, but they were very courteous."
Goodman resisted liberal "opportunists" in the gay community, who saw the Conservative Party's revocation of support as an opportunity to raise money. "Mostly because I wasn't interested in burning bridges and facing a primary in two years," he said. "If I was going to run in New York for anything and I went scorched earth, that would've done that... They end up looking stupid enough on their own — they don't need me to do anything."
For those finding it hard to believe that a pro-marriage statement as inoffensive as Goodman's — a statement for which he later apologized — could result in such political mishegas, the case of Ohio Sen. Rob Portman serves as a useful reminder. Lapses in orthodoxy, even on issues with a deeply personal aspect, aren't viewed with great tolerance by Republican voters: After Portman, whose son is gay, became the first Republican senator to openly support marriage equality in 2013, 41% of his party base said that they viewed him less favorably than before.
The episode has put Goodman in an uncomfortable position when it comes to his partner, who is getting his Ph.D. in postcolonial Middle Eastern history at Princeton University. Goodman admitted that he occasionally avoids introducing his partner at Republican fundraisers and events, hoping to avoid antagonizing a wing of the conservative movement that has already expressed reservations about an out gay candidate.
"Maybe I'm being overly cautious, perhaps, but this is all still new," Goodman said. "I'm not an incumbent — I'm not someone who can say, 'Go fuck yourself, I've won three elections by 10 points.' I'm not in that position yet, so that means I have to be risk-averse. That's just the reality of it." He shrugged. "Things take time to germinate, to become comfortable. I am maybe overly cautious in some instances... but I don't want to incur backlash. There are people who are not onboard, and I do not need to give them more ammunition."
But Republicans aren't the only group spurning gay conservatives. The lingering antipathy young gays feel toward the party can make the label "gay Republican" seem like a contradiction in terms ("like being gay with a bad haircut," as Bette Midler quipped). Just mentioning an article in progress on the topic of gay Republicans at a brunch in Washington, D.C., is enough justification for gay Hill staffers to sharpen their knives.
"They're fucking Quislings, frankly," a legislative associate for a prominent Democratic senator told Mic, comparing gay Republicans to Vidkun Quisling, a Norwegian Nazi collaborationist whose name has become synonymous with self-serving treachery. "Why would you want to be a part of a party that hates you?" asked an energy consultant rhetorically. "It's basically masochism, but not hot," posited his coworker.
A table full of mimosa-fied Hillrats may not be the most scientific sample, but the animosity many liberal LGBT Americans feel for the Republican Party rivals the most sulfurous of Pat Robertson's fire-and-brimstone sermons. "To be screwing a Republican," gay lyricist William Flynn once wrote, "is damn unappealing/ but I can't help but feeling that it's nice to have the roles reversed."
For gay Republicans like Kefalas, criticism of the party's past on LGBT issues is fair — to a point.
"I think there's a double standard," he said. "Just look at the [Hillary] Clinton campaign. Sen. Clinton did not embrace marriage equality until very recently — Dick Cheney, I think, embraced it in 2009. Portman is another good example. Rob Portman obviously embraced it before Clinton, yet he's castigated for not doing it as soon as he should have?"
Goodman echoed Kefalas on the Democratic Party's mixed history on LGBT rights. "No party has clean hands on gay issues." Gay liberals, Goodman said, have a bad memory when it comes to President Barack Obama in particular.
"Obama 'evolves,' and that's Day Zero, and then everyone else is behind the times? Fuck you! That's just insulting," he said. "He was elected in opposition to gay marriage, wink wink, then he cynically evolved. Why he was not called out for that, I don't know."
The history of LGBT rights, Goodman said, is a history of bipartisanship. "It was a bipartisan group of folks who argued the Windsor case! It was bipartisan folks who got through 'don't ask, don't tell' repeal! I just don't see it in black-and-white terms. That's not to say I'm excusing folks in my party, or any other party, but I don't have anything to do with them. What I'm trying to do is change attitudes, and do it from within."
Is there room at the table for gay Republican candidates? The current crop of Republican presidential candidates hasn't lent much credence to the idea that the party's "Big Tent" is big enough for gay voters or candidates. Several leading GOP contenders have vowed to support passage of a constitutional amendment that would forcibly divorce hundreds of thousands of same-sex married couples. All of the Republican presidential candidates condemned the June Supreme Court ruling that made gay marriage legal nationwide.
Beyond the presidential race, the question of whether gay rights groups will rally behind gay Republican candidates on a state and local level remains open.
"I think this election in 2016 is going to be a great test," said Kefalas. "You have Rob Portman fighting for his political life in Ohio — will gay rights organizations support him and rally behind him? [Illinois Sen.] Mark Kirk, same similar social circumstance, will they rally behind him?"
Kefalas sees his race in Maryland as a litmus test, both for the party and for gay organizations with long histories of playing political favorites. "2016 is a test, and we'll see whether gay rights organizations can be legitimately bipartisan or not."
In the end, Victory Fund sees any gay political visibility as good visibility. "We believe that representation matters," said Moodie-Mills. "For the last 24 years, Victory has been very intentional about endorsing candidates of every political party and encouraging diversity. At its core, we believe that if you're not at the table, you're on the menu."
"The more that people are out and open, the less scary, the less weird it becomes," said Goodman. "By the very fact that I am who I am and that people have met my partner, it ceases to be a novelty real quick, even among the most ardent social conservatives I've met." After an article highlighting his first-in-history status as a gay candidate on the East End, Goodman now regularly receives messages from young gay Long Islanders who see his candidacy as a sign that they can be themselves. "I've gotten dozens of Facebook messages, letters, from teenagers who see stuff like that in the newspapers," he said, pointing to the article, which is framed on the wall of his campaign office, "that say how awesome that is."
Kefalas credits his partner, Tommy McFly, host of a popular early-morning radio show, with helping him stay true to himself. "His success is because he's authentic, and I think you have to be authentic as a candidate — those are the candidates that break through," Kefalas said. "I'm going to say some things that are going to make you uncomfortable, but I think at the end of the day, people know who I am. That's the only path we can have to be successful. And we'll see whether that works or not... or all go down in flames!"
As young candidates seek their party's approval and assistance (or at least, its acquiescence), the Republican Party would do well to remember that although Kefalas, Goodman and other didn't choose to be gay, they did choose to be Republicans. Even if only for political purposes, the Grand Old Party could stand to get grander.