Donald Trump Calls Denali an "Insult" and Says He Will Change Name Back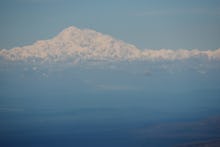 Republican presidential frontrunner Donald Trump called President Barack Obama's decision to change the name of Alaska's Mount McKinley to Denali an "insult" and vowed to reverse the move if elected to the Oval Office.
In a tweet Monday night, the candidate wrote, "President Obama wants to change the name of Mt. McKinley to Denali after more than 100 years. Great insult to Ohio. I will change back!"
The mountain was named for the United States' 25th president, William McKinley, after a gold prospector in the area heard McKinley had received the Republican nomination in 1896. The name was formally adopted by Congress in 1917. Alaska only became a state decades after McKinley's assassination in 1901, and the president never visited.
The word 'Denali,' meaning "the high one" or "the great one," comes from the local name for the mountain indigenous tribes have used for generations. 
Documented efforts to restore the traditional name have been ongoing since at least 1975 but have historically run into one major stumbling block: Ohio. McKinley was a favorite son of the electoral vote-rich presidential battleground, and efforts to remove his name always risked alienating the critical constituency. With just three electoral votes, politicians from snowy Alaska, including former Sen. Ted Stevens, previously failed to break through. 
Now, well into his second term, President Obama appears freer to make good on promises to strengthen relations with indigenous Americans even if it means upsetting the strategically important voters Trump is now courting.
After the change was announced, reaction was swift with traditional party rivalries giving way to state allegiances. In Ohio, state Junior Sen. Rob Portman led the charge on Twitter. 
He was joined by Republican House Speaker and fellow Ohioan John Boehner who said he was "deeply disappointed," as well as one of the state's Democratic congressmen, Rep. Tim Ryan. "We must retain this national landmark's name in order to honor the legacy of this great American president and patriot," Ryan said, Fox News reported. John Kasich, the governor of Ohio and another Republican presidential candidate, appeared to split the difference, not missing an opportunity to criticize the president but also saying that McKinley's legacy was more than just a mountain.
Reaction from Alaskan lawmakers was completely opposite with the state's three-person congressional delegation tweeting their approval. 
Despite leading in most national and state polls, Trump continues to lag behind Kasich in Ohio. It is unclear how or if the billionaire's position on the mountain will affect his standing in the race there.