JK Rowling Says Today Is James Potter's First Day at Hogwarts — and Twitter Is Losing It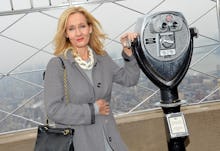 Beloved Twitter master and Harry Potter author J.K. Rowling used social media Tuesday morning to share yet another detail from her magical world, several years after she finished penning her famous seven-book series. 
Tuesday, Sept. 1, 2015, marks the day that, just like his father years before him, James S. Potter would be heading off to Hogwarts for the very first time on the 11 a.m. train from Platform 9 3/4 at King's Cross station. 
The last of the book series, Harry Potter and the Deathly Hallows, was published almost exactly eight years ago, and told us that James, born in 2004, would finally be old enough to attend Hogwarts in 2015.
Naturally, Rowling's reminder created a fan frenzy and included a range of reactions across the world. While many fans expressed their excitement over gleaning yet another nugget of post-publication information, many couldn't help but express their "potterhead feels" under the as #BackToHogwarts started trending on Twitter.
In response to the furor, Rowling tweeted again later on Tuesday — this time with details regarding James Potter's boarding house assignment, which naturally only intensified the clamor. 
And with that, good luck, James. Do us proud.
Just make sure you time your departure right.
h/t BuzzFeed
Sept. 1, 2:31p.m.: This article has been updated.