Serena Williams Has the Perfect Response for Body Shamers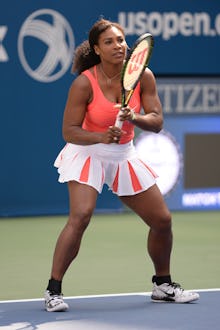 Serena Williams is the top tennis player in the world, on the cusp of becoming the first woman to win a Grand Slam since Steffi Graff in 1988 and is poised to surpass Graff's record of 22 major wins. Yet, she still faces copious racist, sexist and body shaming comments. But, as Williams revealed to Good Morning America on Monday ahead of winning her first U.S. Open match, she's hardly willing to let this ignorance affect her self-esteem.
"I learned to love me," she told GMA host Robin Roberts. "I've been like this my whole life, and I embrace me and I love how I look. I love that I am a full woman, and I'm strong and I'm powerful and I'm beautiful at the same time. And there's nothing wrong with that."
Although the champion has faced derogatory comments from the likes of Twitter users, spectators at matches and even the president of the Russian Tennis Federation, others certainly agree that her powerful body is beautiful. J.K. Rowling most notably lauded the athlete's figure in July, and plenty of others have flooded social media with support. Williams isn't content to only combat this hatred with body-positive maxims, however. She also importantly opts to move past conversations about her body altogether in favor of focusing on what really matters.
"It's so important to look at the positives," she said to Roberts about her approach to derogatory comments. "Whenever I get caught up looking at all the negatives, it can really bring you down. I just don't have time to be brought down. I have too many things to do, you know. I have Grand Slams to win. I have people to inspire. And that's what I'm here for."
Williams' body-positive comments are commendable and do much to set a healthy precedent for other women who face similar shame. As Williams herself said, she should ultimately be lauded for her immense athletic talent and ability to inspire, not her appearance. The next item on the agenda for Williams? Earning the endorsements she deserves. 
Watch the GMA interview below:
h/t Huffington Post