11-Year-Old Boy Turns It Out in Heels, Purses and Pink for New Fashion Ads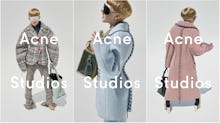 The latest stunner modeling women's fashion isn't a glamorous runway model — nor even a woman. 
Women's Wear Daily reports that 11-year-old Frasse Johansson is the face behind Acne Studios' fall 2015 women's ads, with the preteen modeling an oversized pink wool coat, metallic heels, flared pants and several glamorous leather handbags.
Johansson is the son of Jonny Johansson, creative director of the Swedish fashion brand, so he clearly had a bit of an "in." But Frasse also fits the increasingly androgynous aesthetic of Acne and fashion overall, which is embracing androgynous models and unisex fashion that doesn't draw strict gender lines.
"I've seen this new generation's attitude to fashion where the cut, the shape and the character of the garment is the crucial thing, rather then seeking approval from society or to follow set norms. I immediately pictured Frasse, since he embodies this new breed to me," Jonny Johansson, Frasse's dad, said in a press release, adding, "I asked him, and I'm happy that he wanted to be a part of the campaign."
It did take some adjustment, of course. "Walking in high heels is so hard, and I don't understand how anyone can walk in them," Frasse told WWD. 
But the photos, snapped by Viviane Sassen, look totally natural, reflecting both his ease but also perhaps an increasing familiarity and comfort with fashion shots that don't adhere to gender conventions. 
Coiffed hair, statement-making jewelry, a touch of makeup — none of these things are the exclusive purview of one gender, particularly at a time when buzzcuts are trendy for women, men are embracing boutique fashion and male beauty enthusiasts are rolling out beauty tutorials on YouTube.
That said, there are some who might be disheartened to find another women's fashion ad absent of any adult women — with adult women bodies. Given fashion's timeless obsession with youth, brands have a tendency to embrace whoever the latest Pretty Young Thing, even if she (or he) is a teenager. 
Miu Miu earned some side-eye when it cast Hailee Steinfeld, then 14, in a womenswear ad campaign in 2011; 13-year-old Elle Fanning also made waves for wearing grownup clothes in a Marc Jacobs campaign that same year. And just recently, Christian Dior came under fire for putting a 14-year-old girl on its runway. Criticism of such decisions often cites the exploitation of young people; but they are also questionable in that they reaffirm the youthful standard, particularly for youthful bodies, that rules fashion. 
Hopefully, the preteen Johansson likely won't have women striving for 11-year-old male bodies, but rather appreciating his insouciant glamour. This kid, after all, is seriously killing it.