Kentucky Clerk Ignores Supreme Court Order and Denies Gay Marriage License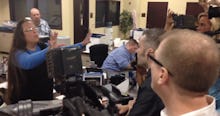 Kim Davis, a Kentucky county clerk who made headlines earlier this year for her refusal to follow the Supreme Court decision legalizing same-sex marriages, has vowed to continue her fight despite a Monday court decision denying her request for an appeal.
On Tuesday, Davis repeated her refusals to several gay couples and a swarm of media that has converged on her office in Rowan County. 
"I wish she'd just follow the law," Rowan County's Judge/Executive Walter Blevins told Mic. "She did take an oath of office and part of that is to uphold the law and follow the Constitution." 
The most memorable confrontation occurred Tuesday morning between Davis and David Moore and David Ermold, who have now been rejected by the clerk four times in total. When the couple demanded to know how she could justify her continued refusal to issue marriage licenses, Davis cited God's authority. Moore and Ermold refused to leave and dared Davis to call the police. 
"We're not leaving until we have a license," Ermold can be heard saying in the video. "Then you're going to have a long day," Davis replied before retreating back into her office.   
"The Supreme Court has changed the law," Blevins said. "All people are entitled to get married if they meet the qualifications and same-sex couples can marry now in America — not just any state — but in America."
Polls show Kentucky residents are relatively evenly split on clerks like Davis. On Tuesday, protests squared off for and against the controversial clerk.
With her appeals now exhausted, Davis' continued refusal could potentially lead to charges of contempt of court, fines and even jail time.