Here's What Hillary Clinton's TV Streaming Queue Should Look Like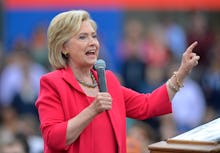 Amid the revelations in Hillary Clinton's emails slowly being released in batches to the general public, there's one that reveals another side of the presidential candidate. It's not a secret about Benghazi, or a conspiracy about the upcoming 2016 election. It's something far less expected.
She has great taste in TV.
If you're going to ask for two shows, Parks and Recreation and The Good Wife are among the best. They're both about the world of government and politics, feature fantastic lead actresses and generally represent the best network comedy and drama have to offer.
However, with Parks and Recreation no longer in production and The Good Wife entering its seventh season, now might be the time for Clinton to diversify her streaming queue. Considering what we know about her other favorite series — Madam Secretary, Downton Abbey and more — we have five suggestions on what she should add to her must-watch list.
Unbreakable Kimmy Schmidt
If there's any heir to Leslie Knope's throne, it's Kimmy. Tina Fey's Netflix series is a sunny blast of optimism that shines despite the series' dark premise. Kimmy, played delightfully by Ellie Kemper, is enthusiastic about the world. That kind of positivity is essential to have in a job as difficult as the presidency must be.
Should Clinton not be sold by the Knope 2.0 angle, she'd surely love Tituss Burgess' show-stopping performance as Kimmy's roommate. We'd love to have a president who can't get "Peeno Noir" out of her head.
Orphan Black
Every good TV fan needs a cause. Whether its FX's The Americans, MTV's Faking It or another series, part of being a television devotee in the 21st century is fighting for a show one is passionate about. We can imagine Clinton would fight hard for Orphan Black, a tricky, complex BBC series available to stream on Amazon Prime.
Why does Orphan Black inspire such fanaticism? The primary reason is Tatiana Maslany, a Canadian actress who plays no less than 10 roles on the show. There's no firm number because, as she plays the many clones of one woman, she gains more to do each season. Maslany had gone unrecognized by any major awards body until the most recent Emmy nominations, when she received a nod for best actress in a drama series. Fans of her work won't stop until she has a win, though — a group that could include Clinton.
Fresh Off the Boat
The idea of the "traditional family" in 2015 has changed dramatically from what it was when Bill Clinton was president in the '90s. There are plenty of great shows about contemporary family units on the air right now — Black-ish, Modern Family, even Transparent — but one of the best is ABC's Fresh Off the Boat, available on Hulu.
Fresh Off the Boat follows the Huang family, based on chef Eddie Huang and his own family, and their experience as restaurant owners in mid-'90s Orlando, Florida. Huang himself has offered some criticism of the show for being too safe, but it was a critical favorite nonetheless. 
The behind-the-scenes machinations may be complicated, but that's all the more reason for Clinton to watch. It's a mix of entertainment and a challenging conversation about authorship of a personal narrative.
Unreal
We've written previously about the glory and wonder that is Lifetime's breakout summer drama, which is available to stream on the network's website with a cable login. Yet there's more to our recommendation than our own fandom. Clinton is about to go through months of televised campaign appearances, debates and interviews. She is, to put it bluntly, on the biggest reality show in America.
She could learn something from the women of Unreal's first season. Don't lose cool like Britney did. Be a dominant force like Quinn. Take a cue from Faith and be as honest as possible. Like the race for the presidency, Unreal is one hell of a ride, full of twists and turns and ups and downs. It's like a television boot camp, and an incredibly enjoyable one at that.
Transparent
Transparent is probably the biggest stretch on this list based on Clinton's taste. It's not a punch line driven sitcom like Parks and Recreation, and its strength doesn't lie in an ensemble cast like The Good Wife. It is perhaps the most important for Clinton to watch, however. Trans rights are the next frontier in the fight for civil rights.
Trans rights have been necessary for years, of course. This battle existed long before Transparent told the story of Maura (Jeffrey Tambor), before Caitlyn Jenner came out of the closet and before the scores of trans women of color dying attracted so much as a glance from major news outlets. That full rights for trans people still don't exist is a tragedy.
By watching Transparent, Clinton will only get a view of one particular, privileged woman's story. It should, however, should she become president, prompt her to act swiftly to make living as a trans person in America a better experience — not just for some, but for all.