'Macbeth' 2015 Trailer Stuns With Michael Fassbender, Marion Cotillard as Power-Hungry Duo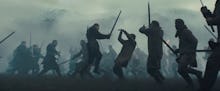 The trailer for Justin Kurzel's film Macbeth starring Michael Fassbender and Marion Cotillard is out, and it's stunning. 
This isn't your high school theater class revival. The movie is an aesthetically gripping adaptation of Shakespeare's famous tragedy, in which a witches' prophecy drives a power-hungry Scottish lord to madness and murder. Fassbender ignites as Macbeth, and Cotillard shines as the calculating female lead, Lady Macbeth, who helps her husband on his bloody ascension to the throne. 
The trailer is full of famous Macbeth one-liners, including, "All hail Macbeth, that shalt be king hereafter."
Like the play, the film centers on the relationship between Macbeth and Lady Macbeth, who doesn't think her husband has the courage to seize the throne for himself. Unlike her husband, Lady Macbeth has few scruples about killing King Duncan. 
Lady Macbeth goads Macbeth to murder the king. "Look like the innocent flower, but be the serpent under it," she tells her husband.
Murder begets more murder as the kingdom's new power couple must cover up their dirty deeds. The whole ordeal ultimately drives Macbeth to the brink, and he begins seeing ghosts. 
"O, full of scorpions is my mind," Macbeth says. 
The trailer reveals the haunting and dark Scotland that is Kurzel's Macbeth. 
Macbeth premiered at the 2015 Cannes Film Festival in May to rave reviews. Leslie Felperin of the Hollywood Reporter called it an "intensely compelling work." 
Other critics have called the film nothing short of epic. Variety's Guy Lodge described Macbeth as "fearsomely visceral and impeccably performed" and "a brisk, bracing update, even as it remains exquisitely in period."
The highly-anticipated film is slated for release Dec. 4. Watch the full trailer for Macbeth here: