Miley Cyrus, #Kanye2020 and the 2015 MTV VMAs Literally Broke the Internet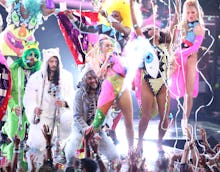 TV ratings might have dipped for the 2015 MTV Video Music Awards, but presidential announcements, wild performances and media beef galore had the Internet breaking all night long.
A total of 21.4 million tweets were sent during Sunday night's VMAs, the "most tweeted non-sports program" since Nielsen began tracking tweets since at least October 2011, according to Deadline. 
Although cable network ratings dipped roughly .5 million to 9.8 from last year's 10.1 million, more than 11 million people were seeing live tweets fill up their feeds. Not to mention, 16 million Facebook users generated 39 million interactions (posts, likes, shares, comments, etc.) surrounding the show. 
Kanye West quite literally dropped the mic: West announcing his 2020 campaign for the White House was the most talked about moment of the show on Twitter, according to Nielsen. At 10:49 p.m., the minute West stopped saying "bro" and revealed his decision to run for president, 247,525 tweets were posted to Twitter.
West trumped other big moments that had big impressions on the Web, including Miley Cyrus' nip slip, Nicki Minaj's calling out Cyrus for what she said about the rapper in a New York Times article days before the show and Rebel Wilson's "Fuck Tha Stripper Police" outfit reveal. The Internet also continued its streak of hilarious memes following West's announcement Sunday night:
Those 21 million tweets surrounding the VMAs were seen 676 million times, and far exceed 2014's records when the show garnered 12.6 million tweets.  
Minaj's calling out Cyrus also solicited tons of response from the Web, which seemed to explode following the rapper's surprise statement.
Based on these figures, it was an awards show for the record books. That is, until, MTV somehow trumps itself once again in 2016.