Here Are the Inspiring Bloggers Breaking the "Rules" for Plus-Size Women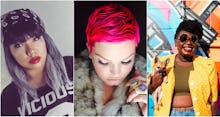 If you judged by the fashion magazines, plus-size women are being celebrated more than ever. This has been the year, after all, that size-22 model Tess Holliday landed the cover of People magazine. It's been the year that the #DropthePlus campaign kicked into gear, telling the world that "'plus' implies bigger than 'normal.'" And already in September, Lane Bryant has placed in Vogue a subtle but powerful ad featuring six silhouettes of full-figured women.
Yet one thing hasn't changed much: how most of these women look. 
More often than not, plus-size models are styled according to a strict ideal, with glamorous makeup and hyper-feminine clothing that accentuates their curves. Their hair is typically long and styled in luxurious waves. Rarely, if ever, do we see plus-size models with in tattoos, or with edgy hairstyles like the short haircuts or colorful 'dos that regular models rock on the reg.
That's why it was so notable when plus-size model Denise Bidot debuted trendy gray hair this summer. At a beauty and health expo for Latina magazine in July, Bidot told Mic she'd decided to switch up her usual long, brunette hair after seeing how much other models were experimenting with hair color. 
It was notable, in short, because it's what "regular"-sized girls get to do, while plus-size women, already in defiance of beauty's biggest standard — small size — are expected to conform to every other female beauty standard.
But plus-size models don't need to follow those unspoken rules, nor do other women out there. Women of all sizes have been breaking every "rule" about plus-size fashion online, as evidenced by #curvyfashion on Instagram or the "fatshion" community on Tumblr. 
Here are 11 style bloggers who are at the forefront of stylish body-positive social media, constantly proving that size doesn't mean playing by anyone's fashion rules.
@garnerstyle
Chastity Garner-Valentine is a fan of wide-legged pants and plenty of layering. Look to her for the perfect trousers, jumpsuits and blazers.
@kobi_jae
Kobi Jae is an Australian blogger who isn't afraid to take fashion risks. Her hair color is bright, and her clothes usually feature a mix of skulls and plenty of plaid.
@francetajohnson
Franceta Johnson is a blogger with a penchant for denim and the color gray. Her overall look is simple and clean for a more fashion-forward effect.
@thera_cloud14
Thera Warren is a wardrobe consultant and stylist based in Toronto. Her looks are always full of bold color, and her hot-pink pixie hair is no exception. 
@thebrennawhiteofficial
Brenna White is a self-described "Wannabe Plus Size Model. Amateur Tattoo Artist." Her outfit posts skew toward a more laid-back, rocker-inflected look, but always hit that feminine note.
@misslionhunter
Mo, as she goes by on her blog, is a style writer whose Instagram feed is filled with many a photo of her grinning cheerily — to match her colorful, perfectly accessorized looks.
@nadiaaboulhosn
Nadia Aboulhosn is a model and blogger known for her trendy, sporty look. She's just as comfortable wearing a skin-tight dress as she is in denim cutoffs and sneakers.
@curvygirlchic
Allison Teng is a self-described "shoe fanatic" from Southern California with a love of flowing dresses, lots of heels and a bold ombre hairdo.
@gabifresh
Gabi Fresh, as she's known on Instagram, is perhaps one of the best-known plus-size bloggers on the scene right now. Her looks are always fun, colorful and trendy pieces that are mixed and matched.
@girlwithcurves
Tanesha Awasthi is a blogger and stylist with a clean, understated look — think solid colors, long lines and light accessories. 
@lalaamisaki
Lala Misaki is a blogger in Paris who is known for her on-trend looks that have a bit of urban flair. Just check out her gray hair.