College Students Who Smoke Weed Every Day Now Outnumber Those Who Smoke Cigarettes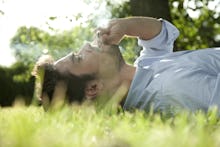 For the first time since at least 1980 (when the record-keeping began), there are more college-age Americans regularly smoking marijuana than cigarettes. 
A survey released by the University of Michigan's Monitoring the Future project indicates the number of college students who use marijuana every or nearly every day is now greater than those who report smoking cigarettes on a daily basis.
Approximately 5.9% of college students who responded to the survey reported following Snoop Lion's advice to get high on the regular, while 5.2% said they smoke cigarettes. The results are the outcome of a decades-long trend in which college students have abandoned traditional cigarettes in droves.
And those ore recent years, zoomed in:
Breaking down the numbers: "It's clear that for the past seven or eight years there has been an increase in marijuana use among the nation's college students," principal investigator Lloyd Johnston said in a statement on Eureka Alert. "And this largely parallels an increase we have been seeing among high school seniors."
The researchers similarly indicated lower levels of smoking among college students reflects lower rates of smoking among college-bound high school students. Higher levels of marijuana use may also be linked to declining views of marijuana as harmful; according to Eureka Alert, just 35% of 19- to 22-year-old high school graduates viewed marijuana as harmful in 2014, down from a 55% in 2006.
The survey also found demand for synthetic marijuana, commonly marketed under the names Spice or K-2, has mostly collapsed, with just 0.9% of college students reporting using it in the past year — down from 7.4% in 2011.
However, the decline in cigarette use may be partially explained by rising use of e-cigarettes that heat nicotine into a less-harmful vapor: 9.7% of college students reported using these or similar devices in the past 30 days.
A changing tide: Young people have been instrumental in changing U.S. attitudes about weed. Millennials support marijuana legalization by double-digit margins, with a 2014 Pew Research Center survey measuring approval of legal weed at around 63% among those born between 1981 and 1994. According to a Pew poll released in February, 63% of millennial Republicans also supported legal marijuana. In addition to the four states (Alaska, Colorado, Oregon and Washington, as well as the District of Columbia) where marijuana legalization efforts have succeeded, at least 11 states seem destined to legalize weed in coming years.