Transgender High School Athletes in South Dakota Face Their Toughest Opponent in This Man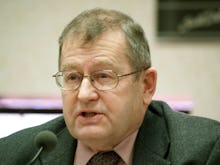 South Dakota state Rep. Roger Hunt will propose a state measure that would force transgender high school athletes to undergo a "visual inspection" before they step onto the field.
If passed, the measure would overrule one of the state's more progressive and gender-inclusive policies. The South Dakota High School Athletics Association ruled in 2014 that transgender athletes had the right to participate in gender-segregated sports in accordance with their own gender identity.
Hunt's proposed measure — which echoes the sentiment of various Republican South Dakota lawmakers — would confine athletes to the gender that was written on their birth certificate, and subject them to a "visual inspection" for confirmation, if necessary.
It is unclear what that "inspection" would entail — though the Advocate, Think Progress and the Huffington Post have all reported that it would require someone to examine athletes' genitals. Hunt did not respond to Mic's request for comment before publication.
According to the Rapid City Journal, the state Legislature's interim committee on Thursday requested a draft of a potential law to determine the issue. The plan is to review the bill during the 2016 legislative session.
"This is South Dakota," Hunt reportedly said in defense of the measure. "We haven't adopted the East Coast culture. We haven't adopted the West Coast culture. We maintain our own culture."
The debate around whether transgender student-athletes should be able to participate in sports in accordance with their affirmed gender has expanded greatly over the past few years — and not just in coastal areas.
Policies vary by state. Currently, 15 states — including South Dakota, Florida, Virginia and Nevada, hardly bastions of liberal politics — plus the District of Columbia expressly permit transgender athletes to play sports with the gender of their choosing, while six other states have "discriminatory policies" that require trans students to provide a birth certificate or proof of transitional surgery in order to compete, according to Trans*Athlete.
The remaining states either don't have policies or are working to establish them.
Opponents of these rulings argue that allowing transgender female athletes to participate in girls' sports affords them an unfair advantage. There is also tension around the use of gender-specific facilities: On Monday, for example, about 150 students walked out of Hillsboro High School in Hillsboro, Missouri, to protest a transgender classmate's use of the girls' locker room, Gawker reports.
"There's a lot of ignorance, they are claiming that they're uncomfortable," said the student, Lila Perry to KMOV. "I don't believe for a second that they are. I think this is pure and simple bigotry."