Gilbert Flores Shooting: Video Captures Police Shooting San Antonio Man With Hands Up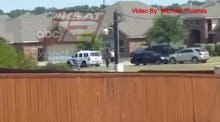 Authorities are investigating the fatal shooting of 41-year-old Gilbert Flores outside his home in San Antonio, Texas, at the hands of two deputies after cellphone video of the incident appeared to show Flores surrendering, according to KSAT, a CNN affiliate. 
"We are aware that there is recorded video which appears to show the final moments of this deputy-involved shooting," Bexar County Sheriff Susan Pamerleau said Friday, CNN reports. "It's among many pieces of evidence that we are collecting to determine what happened." The two deputies, Greg Vasquez and Robert Sanchez, were put on paid administrative leave pending the investigation. 
The police officers had responded to a domestic disturbance call at Flores' home Friday morning. They discovered a woman and an infant who both appeared hurt, CNN reported. Flores was found holding a knife. 
The video appears to show the deputies speaking with Flores before Flores puts his hands in the air, seemingly in surrender. 
Seconds later, at least one of the officers opens fire and Flores falls to the ground.
The bystander who made the video, Michael Thomas, told CNN he started recording because of "everything going on in the world, with police shootings." 
Several high-profile incidences of United State police using deadly force, especially against minorities, have put law enforcement agencies across the country under intense scrutiny. This year, 779 people in the U.S. have died at the hands of police, including 161 people who were unarmed, the Guardian reports. 
"The use of lethal force by law enforcement officers raises serious human rights concerns, including in regard to the right to life, the right to security of the person, the right to freedom from discrimination and the right to equal protection of the law," Amnesty International said in a June report.
Such killings have sparked calls for law enforcement agencies to require officers to wear body cameras while on the job. The deputies involved in Friday's shooting in San Antonio were not wearing them, CNN reports.