Manhunt in Fox Lake for Three Suspects Involved in Fatal Police Shooting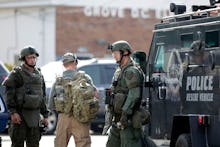 SWAT forces and other authorities are conducting a manhunt throughout Fox Lake, Illinois, following the fatal shooting of a police officer Tuesday morning.
Police officers are describing the three suspects, who are all still at large, as two white men and one black man, and considering them armed and dangerous, according to Lake County Sheriff's Office Det. Chris Covelli.
The ordeal began when 32-year veteran officer Charles Joseph Gliniewicz responded to a call around 7:52 a.m., when communication was suddenly lost with the officer. The officer, whom backup police found after suffering a gunshot wound, was later pronounced dead, according to ABC7, a local Chicago news station.
"At this time, we're asking all area residents to remain inside. Report any suspicious activity, any suspicious people, by dialing 911 as we still have three offenders at large," Covelli told reporters, according to ABC7. Streets and schools are being closed off and put on lockdown as the manhunt continues in the region. 
This is a developing story and will be updated.
Sept. 1, 2015, 5:11 p.m.: This story has been updated.