Apple TV Price 2015: Latest Reports Have Streaming Box Priced Under $200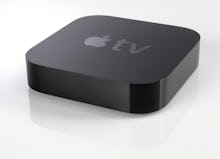 Apple insiders say the company's latest Apple TV, slated for unveiling Sept. 9, will be more expensive than its predecessors but would come in under $200, according to Mark Gurman of 9to5Mac. The current Apple TV box costs around $69.
Although its developers haven't finalized a starting price, consumers would likely pay between $149 and $199, Gurman reports. "As the new box will be considerably more expensive than popular alternatives from Roku, Google and Amazon, Apple plans to keep the $69 third-generation device for sale as an entry level model within the Apple TV product line," Gurman writes. 
That third-generation device, released in 2012, was originally priced at $99. The company dropped the price $30 in March. 
Here are some of the things to expect from Apple's revamped but pricier Apple TV: 
A new look: Insiders expect a slightly thicker and wider set-top box, according to the Telegraph.
The remote is getting a revamp, too. The new remote will reportedly have a touch screen and include more bells and whistles than the current version.
New features: Siri voice command, curated content and new apps are some of the features likely coming to Apple TV, according to early reports. 
The streaming media device currently allows only a limited number of third-party programs, what Apple calls "channels." It's expected that Apple will allow developers to build apps for Apple TV and give users the ability to browse through them, like in the mobile App Store. 
Streaming cable: Apple has also reportedly been working with various broadcasters to bring live TV channels to Apple TV owners (for a subscription fee, of course).