How Bernie Sanders' Online Army Is Using Reddit to Fuel His 2016 Campaign Surge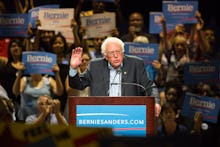 In the four months since he joined the race, Democratic presidential candidate Sen. Bernie Sanders (I-Vt.) has emerged as the party's most dynamic political performer. Drawing massive crowds to increasingly raucous rallies across the country, Sanders inspires outpourings of enthusiasm that no other presidential contender in either party has matched.
Over three days in early August, Sanders attracted more than 70,000 people to events in Seattle, Portland, Oregon, and Los Angeles. A throng of 4,500 turned out for a speech on the University of Nevada, Reno, campus on Aug. 18.
The crowds at Sanders' events don't arrive by accident, nor does his surge in the polls represent some inevitable tightening of the field. In fact, both are largely the result of a broad, digital grassroots effort orchestrated by the campaign itself and enthusiastic volunteer organizers. Sanders and his supporters are now successfully parlaying the powers of social media into meaningful, strategic success on the ground.
One of the most effective tools the Sanders operation uses to promote its attention-grabbing spectacles is a network of Bernie-loving communities on Reddit, the massive social news site. There are at least 80 distinct Sanders-related subreddits, including one dedicated to each state and the District of Columbia. In particular, the Sanders campaign is coordinating with r/SandersforPresident, which serves as the hub for an amalgam of state and local communities devoted to the cause.
Reddit, which calls itself "the front page of the Internet," is a natural fit for the campaign to promote its viral star. The site's egalitarian structure and the political leanings of its user base match up nicely with the philosophy and policies driving Sanders' candidacy. The r/SandersforPresident subreddit has become both a breeding ground for collaboration and a place for the like-minded to find each other — driven, in part, by a few dedicated armchair organizers who created and oversee the community.
How they do it: R/SandersforPresident was co-created two years ago by Aidan King, a 23-year-old Vermont native with no traditional organizing experience. He and a loosely connected "inner circle" of three moderators, along with seven more dedicated to "janitorial work," now manage the community, which has grown to nearly 100,000 subscribers. He and his co-moderators quietly channel the passions of r/SandersForPresident into event organizing, voter registration drives and tactical message delivery.
A New Hampshire University graduate, King works in digital communication for a vineyard in his hometown of Montpelier, Vermont. He created r/SandersforPresident on Dec. 6, 2013, nearly 17 months before Sanders announced that he would challenge Hillary Clinton for the Democratic nomination.
According to King, the total number of subscribers rose from around 3,000 to 7,000 from January to April of this year. In the week following Sanders' entry into the race in April, that figure swelled to nearly 40,000. In July and August, King told Mic on Tuesday, r/SandersForPresident grew by an average of about 500 new subscribers every 24 hours. Members of the community combine to contribute about 370 new posts every day, he said.
That knee-bending ascent caught the Sanders campaign's attention, which recognized the potential for translating online energy into real-life action, covering everything from event promotion to voter registration drives and donor solicitation.
Connecting with the campaign: "We work closely with those in leadership roles on the subreddit to make sure that the large audience on Reddit knows exactly how to get involved in the campaign and spread the senator's message," Kenneth Pennington, the digital director for Sanders' campaign, told Mic last week. King said he and his co-moderators exchange updates with the campaign every seven to 10 days.
The first meaningful contact between the moderators and the Sanders staff came early this summer, according to King. The senator was going to Madison, Wisconsin, and hoping to make headlines.
Pennington, 24, reached out to King with a simple question: "This is the first time we've booked an event this size, and we'd love to pack the house," he said. "Can you guys help?" King assured him they would try.
"We posted a message to the community. We posted messages to various sub-communities in Wisconsin," King said. "There's a subreddit for Wisconsin Badgers, the college, so we went around to the relevant places and spread the word. The amount of energy and willingness and initiative that regular people took... They had no email from the campaign. They weren't told, 'This is really important.' They just took it upon themselves."
The rally was a turning point for Sanders. On July 1, 10,000 people filled Madison's Veterans Memorial Coliseum, making the rally the largest gathering of the 2016 cycle.
"Tonight, we have made a little bit of history," Sanders told the audience.
For the campaign, the impressive turnout in Wisconsin also presented a unique opportunity to collect more email addresses, a prized commodity in the fundraising wars. Since entering the race, the Sanders campaign says it has received donations from 400,000 supporters, who have contributed an average of $31 per donation.
After Madison, King said, r/SandersforPresident moderators began posting information about "the next event and the next event and the next event." Now, one of the easiest places to follow Sanders' campaign schedule is the subreddit. "I like to think that the RSVP numbers are climbing higher due to the efforts we're making," King said. He estimated a single pinned and promoted post doubles an event's exposure.
Taking control: Managing the Reddit community involves responding to users' complaints while simultaneously seeking to advance Sanders' cause. In some ways, the day-to-day management is more demanding work than getting people to events.
"Trying to keep everyone focused and happy, that's tough," King said. A recent redesign — page administrators can customize the layout of subreddits — fell flat, causing the moderators to roll it back and try again two days later, with better results. When Sanders turned over the podium and left the stage after being interrupted by Black Lives Matter protesters during an Aug. 8 rally in Seattle, the roiling debate about the movement's tactics spilled over into the online community, effectively drowning out any unrelated discussion.
"We needed to do something about it," King said, "so we installed some filters and created a mega-thread." Users were encouraged to direct their comments, pictures, videos and news links into an isolated forum. "Some people were happy, because they didn't want to get into a fight about racial justice versus progressive politics, but a lot of people were upset and said we were censoring them."
On this front, King, who describes himself as a "young, kind of soft-hearted, mild mannered winery employee," is unapologetic. His reluctance to assert ownership of the community disappeared as he drilled down into the pragmatic measures he believes necessary to sustain its momentum and utility to Sanders.
"There is a hierarchy," he said while mapping out the day-to-day negotiations between the moderators and their typically fractious liberal confederacy. "And there is a hierarchy for a reason."
Nor is he afraid to crack the whip when the tone of the discourse strays or fades.
"Our subreddit has slowly become oversaturated with primarily happy articles about Bernie, pictures of Bernie at rallies, various slacktivism-based projects, and most of the discussion seems to be an echo chamber of agreement and patting each other on the back," King wrote in a Monday post. Then followed a bulleted list of what posters "will" and "will not" do if "we really want to see Sen. Sanders get elected president."
Too big to fail: With five months until the voting begins in Iowa, King concedes the current infrastructure will be not be able to cope with growing demand for information and, given the nature of social media, more finely regulated platforms for users to broadcast their opinions. He has worked with other activist entrepreneurs, like Daniela Perdomo, the founder of feelthebern.org, to spread the strain. Perdomo's site, which features 51 manicured pages of aggregated and sourced information on Sanders' political positions, is linked at the top of the subreddit.
To improve the user experience, King and the other moderators have installed filters to block objectionable or otherwise spammy content. Submissions from photo hosting sites like Imgur will automatically appear with a dark green "image" tag. A link to YouTube or LiveLeak will generate a light-green "video" tag. There are intuitively presented direct connections to the campaign's official donation portal and event organizing tools.
But King said the subscriber count is wildly outpacing his experience and innovation. The question now is: whether this small team of young volunteers, who've seen their quiet community grow nearly 20-fold in less than a year, scale up with them. And what happens if the subreddit simply becomes too big or unruly to steer?
"I've never really considered it as a possibility," King said. "But at the rate we're growing, we're going to have to bring on new help. We're going to have to get some advice from people. If you know any tutors, can you get them to give me a call?"